Date:
15 April 2007 |
Season:
Swingeing London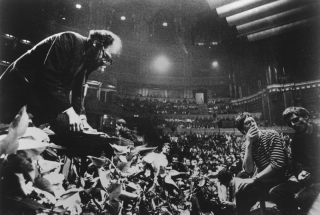 SWINGEING LONDON: 2
Sunday 15 April 2007, at 5pm
Filmhuis Den Haag
LOVE LOVE LOVE
Michael Nyman, UK, 1967, 16mm, b/w, sound, 5 min
Hyde Park, 16th July 1967: Thousands attended the Legalise Pot Rally, a love-in to demonstrate the need for a relaxation of England's strict drug laws. Love Love Love, made by composer Michael Nyman, is a pixillated record of the event with an obligatory Beatles soundtrack. The film features poet Allen Ginsberg, playwright Heathcoate Williams and artist David Medalla (leader of performance group The Exploding Galaxy). The peaceful protest was organised by SOMA (Society of Mental Awareness), who, one week later, placed a full page notice to argue their case in the Times newspaper. The advertisement was paid for by Paul McCartney and signed by 65 luminaries from both the underground and the establishment. Widely assumed to be timed in protest against the recent conviction of Jagger and Richards, the advert was more directly prompted by the swingeing sentence passed on John 'Hoppy' Hopkins, who received nine months in prison for possession of a small quantity of pot.
WHOLLY COMMUNION
Peter Whitehead, UK, 1965, 16mm, b/w, sound, 33 min
The International Poetry Incarnation at the Royal Albert Hall is regarded as the defining moment that inaugurated London's sixties adventure. Peter Whitehead's crisply shot, b/w film, only a half hour long, is remarkably comprehensive in documenting key performances of the evening, and captures the tangible sense of expectation that must have permeated the atmosphere within the cavernous concert hall. Wholly Communion not only encapsulates this seminal moment in which the underground went public, but remains one of the few records of a whole generation of poets performing in their prime.
"The event began with Allen Ginsberg chanting and playing finger cymbals, performing a Hindu mantra which was described by The Times newspaper, as a "heavily amplified incomprehensible song to the accompaniment of a bell-like instrument". Alexander Trocchi compered the evening, which consisted of four hours worth of readings and performances by Allen Ginsberg, Gregory Corso, Lawrence Ferlinghetti, Harry Fainlight, Adrian Mitchell, Michael Horovitz, Ernst Jandl, Christopher Logue, John Esam, Pete Brown, Anselm Hollo, George Macbeth, Simon Vinkenoog, Paulo Leonni, Daniel Richter, Spike Hawkins, and Tom McGrath, as well as the playing of tapes of, and by, William Burroughs. Poets who, although radically different in style, "showed their hatred of the narrow mind and heart, and joined in celebration of God-as-total-consciousness." Despite being organized in a matter of days, a press conference announcing the event the previous week guaranteed an estimated audience of 7000 inside the venue, who had been invited to: "Come in fancy dress," "Come with flowers," and "Come."" (Jack Sargeant)
ANATOMY OF VIOLENCE
Peter Davis, UK, 1967, 16mm, b/w, sound, 30 min (shown on video)
The symposium on the Dialectics of Liberation and the Demystification of Violence, organised by R.D. Laing, experimental psychologist and author of "The Divided Self", was structured like an academic conference with invited speakers, panel discussions and open meetings. Over 15 days at the Camden Roundhouse it covered subjects such as Black Power, Vietnam, personal liberty and the freedom of speech. Key lectures were released by the Institute of Phenomenological Studies on a series of 23 LP records. Anatomy of Violence features proclamations by Allen Ginsberg, Herbert Marcuse, Stokely Carmichael and Emmett Grogan, and a discussion group including Carolee Schneeman and auto-destructive artist Gustav Metzger. Filmmaker Peter Davis later won an Academy Award for Hearts and Minds, his 1974 documentary on the Vietnam War.
REIGN OF THE VAMPIRE
Malcolm Le Grice, UK, 1970, 16mm b/w, sound, 15 min
Le Grice's work developed through direct processing, printing and projection, gaining an understanding of the material and exploring duration while touching on aspects of spectacle and narrative, and using early computer imagery. Reign of the Vampire addresses contemporary paranoia about the military-industrial complex, the Vietnam War, and the suspected influence of American government's intelligence agency in countercultural activities. It was the last of a group of works shown together under the collective title "How to Screw the CIA, or How to Screw the CIA ?"
"This film could be considered as a synthesis of the series. It is formally based on the permutative loop structure, superimposing a series of three pairs of image loops of different lengths with each other. The images include elements from all the previous parts of the series. The film sequences that make up the loops are chosen for their combination of semantic relationships, and abstract factors of movement. The soundtrack is constructed for the film, but independently, and has a similar loop structure." (Malcolm Le Grice)
Also Screening: Wednesday 18 April 2007, at 8:30pm
---