Date:
14 April 2007 |
Season:
Swingeing London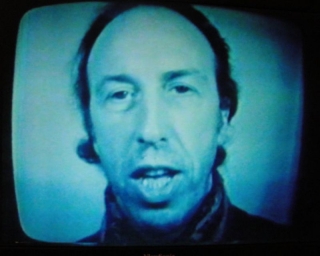 SWINGEING LONDON: 1
Saturday 14 April 2007, at 9:30pm
Filmhuis Den Haag
TOWERS OPEN FIRE
Antony Balch & William Burroughs, UK, 1963, 16mm, b/w, sound, 16 min
The remarkable Towers Open Fire was conceived by filmmaker and distributor Antony Balch and "Naked Lunch" author William Burroughs, and features appearances by their associates Ian Sommerville, Brion Gysin and Alexander Trocchi. Envisioned as a cinematic realisation of Burroughs' key themes, such as the breakdown in control, the film contains rapid editing, flicker, strobing and extreme jump cuts that interrupt the narrative flow. A brief passage of hand painted colour was applied to each print (during Mikey Portman's dance sequence), and the film includes footage of the prototype Dreamachine, designed by Gysin to stimulate the brain's alpha waves and aid hallucination. The British Censor requested removal of some offensive language from the soundtrack but passed (or failed to notice) the shots of Balch masturbating, and of Burroughs shooting up.
"Society crumbles as the Stock Exchange crashes, members of the Board are raygun-zapped in their own boardroom, and a commando in the orgasm attack leaps through a window and decimates a family photo collection …" (Tony Rayns, Cinema Rising, 1972)
HEADS
Peter Gidal, UK, 1969, 16mm, b/w, silent, 35 min
One of the major filmmakers and theorists of the 1970s, Gidal moved from New York to London in 1968, and his association with Andy Warhol's Factory brought an air of authenticity to the LFMC. His cool, oppositional stance refuted narrative and representation, denying illusion and manipulation though visual codes, and his films moved towards a persistent denial of the photographic image. Heads is a silent series of tight, claustrophobically cropped portraits of artists, filmmakers, musicians and cultural activists. Some are London residents, others were just passing through. Charlie Watts, Bill West, Jane, John Blake, Linda Thorson, Marsha Hunt, Steve Dwoskin, Thelonious Monk, Peter Townsend, David Hockney, Marianne Faithful, Carol Garney-Lawson, David Gale, Richard Hamilton, Dieter Meier, Rufus Collins, Leslie Smith, Anita Pallenburgh, Claes Oldenburgh, Francis Bacon, Adrian Munsey, Carolee Schneeman, Andrew Garnett-Lawson, Jim Dine, Vivian, Prenai, Winston, Gregory Markopoulos, Rosie, Patrick Procktor and Francis Vaughan.
"Clinical subjectivity, a construct, a consciously, precisely set-up situation. 31 people's faces: tight closeup (10:1 zoom lens head on stare). Movement happens against the strict construct. The realness is within the framework as set up and defined, a non-illusory use of film structure and film situation." (Peter Gidal, 1970)
RICHARD HAMILTON
James Scott, UK, 1969, 16mm, colour, sound, 25 min
Richard Hamilton was a new kind of documentary on the arts, made by filmmaker James Scott in complete collaboration with Hamilton himself. Devoid of authoritative voiceover, the film presents samples of the artist's work alongside reference materials, found footage, scenes from Hollywood features and news reports of the Jagger/Richards/Fraser drugs trial. Bing Crosby, Marilyn Monroe and Patricia Knight (in Sirk and Fuller's long forgotten Shockproof) also put in appearances as the film traces the inspiration behind some of Hamilton's signature paintings.
"We have to start with a rather peculiar premise – that I don't like art films", says Richard Hamilton at the beginning of this one. Images from the mass media have provided the inspiration for many of his paintings and Scott's film presents some of this source material and shows how the artist has treated it. Despite its brevity, this brilliant and informative film – as much an extension of Hamilton's work as a comment on it – is itself constructed as an epic viewing session, with an intermission advertising ice cream and Coca-Cola, a trailer for Desert Hawk with Yvonne De Carlo and, as an entirely appropriate pop art ending, Mr. Universe and Miss World striding off into a golden sky lit by the first rays of dawn." (Konstantin Bazarov, Monthly Film Bulletin, 1971)
TALK MR BARD
John Latham, UK, 1968, 16mm, colour, sound, 7 min
Talk Mr Bard consists of the crude and rapid animation of a seemingly endless succession of coloured paper discs. The homemade soundtrack is a chaotic college of radio fragments and interference. A tutor at Saint Martins School of Art, Latham organised a dinner party at which he invited friends to chew pages from Clement Greenberg's book "Art and Culture", which had been borrowed from the college library. The soggy paper was spat out and fermented in a mixture of sulphuric acid, sodium bicarbonate and yeast. When he eventually received an overdue notice from the library months later, Latham encased the remaining liquid in a glass teardrop, which he labelled "Essence of Greenberg" and returned. He lost his job, but had the last laugh some years later by selling the residue of the event to the Museum of Modern Art in New York.
Also screening: Tuesday 17 April 2007, at 8:30pm
---