Date:
24 February 2007 |
Season:
Robert Beavers 2007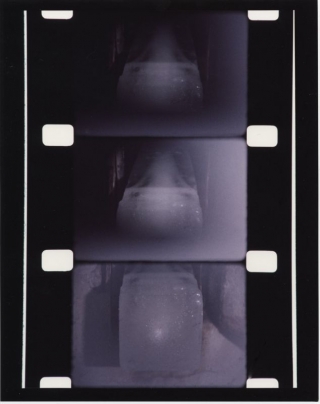 MY HAND OUTSTRETCHED: PROGRAMME 5
Saturday 24 February 2007, at 5pm
London Tate Modern
Robert Beavers, Work Done, 1972/1999, 35mm, colour, sound, 22 min
Bracing in its simplicity, Work Done was shot in Florence and the Alps, and celebrates an archaic Europe. Contemplating a stone vault cooled by blocks of ice or the hand stitching of a massive tome or the frying of a local delicacy, Beavers considers human activities without dwelling on human protagonists. Like many of Beavers' films, Work Done is based on a series of textural or transformative equivalences: the workshop and the field, the book and the forest, the mound of cobblestones and a distant mountain. (J. Hoberman, The Village Voice)
Robert Beavers, Ruskin, 1975/1997, 35mm, b/w & colour, sound, 45 min
Ruskin visits the sites of John Ruskin's work: London, the Alps and, above all, Venice, where the camera's attention to masonry and the interaction of architecture and water mimics the author's descriptive analysis of the "stones" of the city. The sound of pages turning and the image of a book, Ruskin's 'Unto This Last', forcibly remind us that a poet's perceptions, and in this case his political economy, are preserved and reawakened through acts of reading and writing. (P. Adams Sitney, Film Comment)
Ruskin will be shown in a brand new print. The preservation of this film has been made possible by the generosity of Cineric Inc. and The Guild of St. George.
---