Date:
18 February 2007 |
Season:
Robert Beavers 2007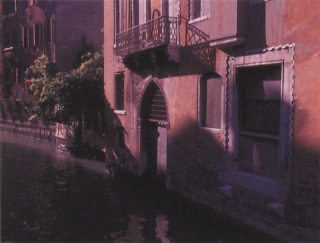 TO THE WINGED DISTANCE: PROGRAMME 6
Sunday 18 February 2007, at 3pm
London Tate Modern
Robert Beavers, Ruskin, 1975/1997, 35mm, b/w & colour, sound, 45 min
Ruskin visits the sites of John Ruskin's work: London, the Alps and, above all, Venice, where the camera's attention to masonry and the interaction of architecture and water mimics the author's descriptive analysis of the "stones" of the city. The sound of pages turning and the image of a book, Ruskin's 'Unto This Last', forcibly remind us that a poet's perceptions, and in this case his political economy, are preserved and reawakened through acts of reading and writing. (P. Adams Sitney, Film Comment)
Ruskin will be shown in a brand new print. The preservation of this film has been made possible by the generosity of Cineric Inc. and The Guild of St. George.
Robert Beavers, The Stoas, 1991-97, 35mm, colour, sound, 22 min
The title refers to the colonnades that led to the shady groves of the ancient Lyceum, here remembered in shots of industrial arcades, bathed in golden morning light, as quietly empty of human figures as Atget's survey photos. The rest of the film presents luscious shots of a wooded stream and hazy glen, portrayed with the careful composition of 19th century landscape painting. An ineffable, unnameable immanence flows through the images of The Stoas, a kind of presence of the human soul expressed through the sympathetic absence of the human figure. (Ed Halter, New York Press)
---