Date:
1 June 2005 |
Season:
London Film Festival 2004
|
Tags:
London Film Festival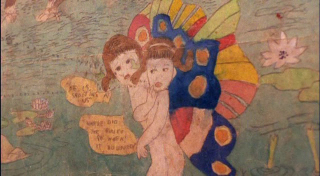 LONDON FILM FESTIVAL EXPERIMENTA TOUR 2005
June–September 2005
UK touring programme

EXPERIMENTA brings a selection of artists' films and videos from the 2004 London Film Festival direct to your hometown. The touring programme presents two features which each take unique and original approaches to the documentary genre and two programmes of short film and video works. Two additional screenings offer key works from previous years.
Los Angeles Plays Itself is Thom Andersen's extraordinary essay on the way that the city of Los Angeles, and particularly its architecture, has been represented in the movies. It's a long film, but it's a big city. Jessica Yu's In the Realms of the Unreal tells the bizarre story of outsider artist Henry Darger, who worked in isolation on a 15,000 page fantasy in which seven young girls battle to save children from the evil Glandelinians. Darger's incredible, and unsettling, illustrations are brought to life by animation as the film explores the mysterious individual that created them.
The video programme features works that manipulate found or archival footage, together with those in which the images have been entirely created by digital means. At the edge of technology, fordbrothers exploit the digital artefacts that occur during file compression. Nuée and Kilvo also explore the transformative qualities of computer processing but retain organic textures. T:O:U:C:H:O:F:E:V:I:L and SET-4 employ material from kitsch 60s thrillers and endless late night sports tv, whilst Luke is a hypnotic treatment material shot by Bruce Conner on the set of Cool Hand Luke in 1967. Finally, Alice in Wonderland or Who is Guy Debord? presents the Disney favourite as you have never heard it before: entertaining, amusing and utterly subversive.
In the film programme, magnificent new works by old masters Robert Breer and Peter Kubelka are shown alongside younger and less well-known artists, including Emily Richardson's time-lapse film of natural light, Yuiko Matsumaya's abstract meditation of liquid particles and Julie Murray's disturbing use of found footage. The final instalment of Robert Fenz's Meditations on Revolution is an iridescent document of night time New York streets, mixed with a biographical portrait of jazz musician Marion Brown. Nathaniel Dorsky was a featured guest at the LFF in 2004, presenting an inspiring lecture on "Devotional Cinema" (the title of his recent book). His exquisite silent films, of which Threnody is the most recent, are profound observations of the wonder of everyday life.
The spirit of Stan Brakhage is present in two of the works in this collection: on the soundtrack of Preserving Cultural Traditions he expresses his misgivings about computers, and Dorsky's Threnody, is dedicated to his recently departed friend. To acknowledge the unparalleled work of this important artist, who died in 2003, the London Film Festival is proud to present a memorial programme of key works made in the last years of his life, including The God of Day Had Gone Down Upon Him.
A second retrospective programme features a 2002 video by the painter Alfred Leslie, whose first film Pull My Daisy (made in collaboration with Robert Frank) is one of the essential works of early personal cinema. The Cedar Bar juxtaposes enlightening found footage with a reading of Leslie's 1952 play, which depicts real and imaginary events at the legendary tavern where the Abstract Expressionists slugged drinks and each other.
The London Film Festival is a showcase that presents the most exciting and innovative cinema in the world, where you can expect to see avant-garde film and innovative new media showing alongside the latest art house features and Hollywood blockbusters. As one of the main strands of the festival, Experimenta gathers together works shown at international film festivals, museum and galleries, together with new discoveries and world premieres by established and emerging artists, film and video makers.
Experimenta is an international programme that celebrates and promotes artists' moving image works in film and video. It's a place in the festival for personal expression, featuring work that is created away from or in spite of the commercial system. Experimenta encompasses experimental, documentary, narrative, animated and abstract work, but when cinema is truly expressive and elevated, such awkward categories become meaningless and language inadequate.
LOS ANGELES PLAYS ITSELF
Thom Andersen, Los Angeles Plays Itself, USA, 2003, video, 169 min
IN THE REALMS OF THE UNREAL
Jessica Yu, In the Realms of the Unreal, USA, 2004, 35mm, 81 min
VIDEO VISIONS
fordbrothers, Preserving Cultural Traditions In A Period Of Instability, Austria, 2004, video, 3 min
Michaela Grill, Kilvo, Austria, 2004, video, 6 min
Bruce Conner, Luke, USA, 2004, video, 22 min
Myriam Bessette, Nuée, Canada, 2003, video, 3 min
Ichiro Sueoka, T:O:U:C:H:O:F:E:V:I:L, Japan, 2003, video, 5 min
Jan van Neunen, Set-4, Netherlands, 2003, video, 4 min
Robert Cauble, Alice in Wonderland or Who is Guy Debord?, USA, 2003, video, 23 min
FILM FOCUS
Nathaniel Dorsky, Threnody, USA, 2004, 16mm (18fps), 20 min
Emily Richardson, Aspect, UK, 2004, 16mm and cd, 9 min
Yuiko Matsuyama, Hana (Flower), Japan, 2004, 16mm, 5 min
Julie Murray, I Began to Wish, USA, 2003, 16mm, 5 min
Robert Breer, What Goes Up, USA, 2003, 16mm, 5 min
Robert Fenz, Meditations on Revolution V: Foreign City, USA, 2003, 16mm, 32 min
Peter Kubelka, Dichtung und Wahrheit (Poetry and Truth), Austria, 2003, 16mm, 13 min
THE CEDAR BAR
Alfred Leslie, The Cedar Bar, USA, 2002, video, 84 min
STAN BRAKHAGE PROGRAMME
Stan Brakhage, Water for Maya, USA, 2000, 16mm, 5 min
Stan Brakhage, The God of Day Had Gone Down Upon Him, USA, 2000, 16mm, 55 min
Stan Brakhage, Persian Series #9, USA, 2000, 16mm, 20 min
Selections from these programmes screened at Bristol Arnolfini, Edinburgh Filmhouse, Glasgow Film Theatre, Leeds Film Quarter, Liverpool FACT, London Greenwich Picturehouse, London ICA, Manchester Cornerhouse, Newcastle Side Cinema, Nottingham Broadway and Sheffield Showroom.
---