Date:
31 October 2004 |
Season:
London Film Festival 2004
|
Tags:
London Film Festival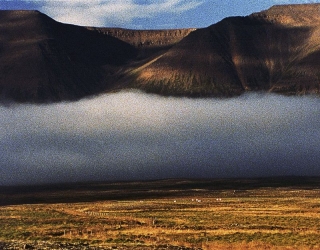 DRIFT STUDIES
Sunday 31 October 2004, at 9pm
London National Film Theatre NFT3
Nicky Hamlyn, Water, Water, UK, 2004, 11 min
Reflections and refractions of light, alternated in hard, optical flicker and gliding dissolves.
Emily Richardson, Aspect, UK, 2004, 9 min
A time-lapse chronicle of the modulation of natural light, from high above the canopy of trees to the filtered rays on the forest floor.
Peter Hutton, Skagasfjördur, USA, 2004, 35 min
Photographic study of the mists, clouds and extraordinary landscapes of the mysterious land of the sagas. Peter Hutton has fixed his camera on the awesome panoramas of Iceland and created a monumental film, which records the subtle luminosity of the region and its dramatic atmospheric conditions.
Yuiko Matsuyama, Flower, Japan, 2004, 6 min
The meandering flow of china ink, suspended in water, opens up a microcosmic world of Brownian motion.
Bart Vegter, Zwerk, Netherlands, 2004, 8 min
An abstract, computer-generated work produced by using mathematical formulae to create complex interference patterns in colour tinted layers.
Jürgen Reble, Arktis – Zwischen Licht und Dunkel, Germany, 2003, 32 min
This new video is a surprising departure for Reble, who is best known for his alchemical treatment of celluloid. Digitally processed, it transforms shots of the arctic landscape, drawn from education films and travelogues, into a virtual fantasy world illuminated by the hallucinatory half-light of evening.
PROGRAMME NOTES
---