Date:
30 October 2004 |
Season:
London Film Festival 2004
|
Tags:
London Film Festival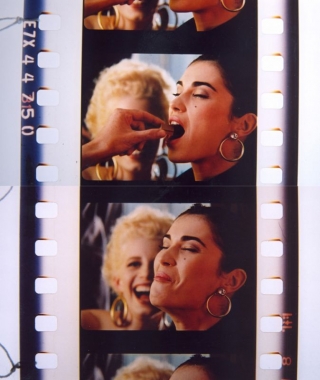 POETRY AND TRUTH
Saturday 30 October 2004, at 9pm
London National Film Theatre NFT3
Larry Jordan, Enid's Idyll, USA, 2004, 17 min
An animated imagining of Arthurian romance based on Gustav Doré's engraved illustrations for Tennyson's 'Idylls of the Kings', accompanied by the music of Mahler's 'Resurrection Symphony'.
Julie Murray, I Began To Wish, USA, 2003, 5 min
Mysterious events unfold in a potting shed … A jewel of found footage, mysterious and profound beyond its imagery, and with an almost deafening aural presence, despite its lack of soundtrack.
Rebecca Meyers, Things We Want To See, USA, 2004, 7 min
An introspective work that obliquely measures the fragility of life against boundless forces of nature, such as Alaskan ice floes, the Aurora Borealis and magnetic storms.
Peter Kubelka, Dichtung Und Wahrheit, Austria, 2003, 13 min
In cinema, as in anthropological study, the ready-made can reveal some of the fundamental 'poetry and truth' of our lives. Kubelka has unearthed sequences of discarded takes from advertising and presents them, almost untouched, as documents that unwittingly offer valuable and humorous insights into the human condition.
Morgan Fisher, ( ), USA, 2003, 21 min
'I wanted to make a film out of nothing but inserts, or shots that were close enough to being inserts, as a way of making them visible, to release them from their self-effacing performance of drudge-work, to free them from their servitude to story.' (Morgan Fisher)
Ichiro Sueoka, T:O:U:C:H:O:F:E:V:I:L, Japan, 2003, 5 min
Like Fisher's film, Sueoka's video also uses cutaways, but this time the shots are from 60s spy dramas, and retain their soundtracks. Stroboscopically cut together, it becomes a strange brew, like mixing The Man from U.N.C.L.E with Paul Sharits' T,O,U,C,H,I,N,G.
Bruce Conner, Luke, USA, 2004, 22 min
In 1967 Bruce Conner visited Dennis Hopper, Paul Newman and others on the set of Cool Hand Luke and shot a rarely seen roll of silent 8mm film of the production. Almost forty years later, he has returned to this footage and presents it at three frames per second, creating an almost elegiac record of that time. Patrick Gleeson, Conner's collaborator on several previous films, has prepared an original soundtrack for this new work.
PROGRAMME NOTES
---