Date:
17 October 2004 |
Season:
Valie Export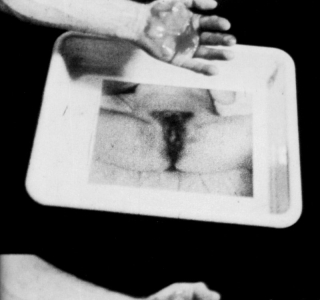 VALIE EXPORT: MEDIAL ANAGRAMS
Sunday 17 October 2004, at 6:20pm
London National Film Theatre NFT2

Export's work in film and video often focuses on the meaning, transformation and identity of signs and the way they are interpreted and represented as reality by the technological media. The visceral early films Mann & Frau & Animal and … Remote … Remote … address these issues in a direct and explicit manner. Syntagma, from 1983, is a complex visual montage in which her entire film, expanded cinema and visual art techniques are concentrated into a work that explores the female body as sign. The screening also includes A Perfect Pair, an allegorical depiction of consumer lust from the portmanteau film Seven Women – Seven Sins, and the video works Seeing Space and Hearing Space and The Duality of Nature.
Valie Export, Interrupted Line, Austria, 1971-72, 16mm, 3 mins
Valie Export, Mann & Frau & Animal, Austria, 1973, 16mm, 10 mins
Valie Export, … Remote … Remote …, Austria, 1973, 16mm, 10 mins
Valie Export, Raumsehen und Raumhören, Austria-Germany, 1974, video, 20 mins
Valie Export, Die Zweiheit Der Natur, Austria, 1986, video, 2 mins
Valie Export, Syntagma, Austria, 1983, 16mm, 18 mins
Valie Export, Ein Perfektes Paar, Oder Die Unzucht Wechselt Ihre Haut, Austria-Germany, 1986, video, 12 mins
In a rare appearance, Valie Export will be present on 17 October 2004 to discuss her work with writer and curator Ian White.
Also screening: Wednesday 20 October 2004, at 8:40pm
---