Date:
16 October 2004 |
Season:
Valie Export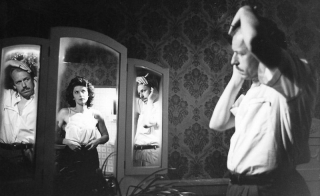 THE PRACTICE OF LOVE
Saturday 16 October 2004, at 8:40pm
London National Film Theatre NFT2

The Practice of Love is a thriller in which television journalist Judith Wiener investigates the events that led to a fatal subway accident, revealing facts which implicate her two lovers in a terrorist conspiracy. Alfons seems out of his depth with his involvement with an arms smuggling racket, while Joseph is a respected psychologist who appears unable to manage his own emotional affairs. The film explores what goes on just below the surface, and how this affects private and public behaviour.
Valie Export, The Practice of Love (Die Praxis der Liebe), Austria, 1984, 90 mins
with Adelheid Arndt, Rüdiger Vogler and Hagnot Elischka
Also screening: Wednesday 20 October 2004, at 6:20pm
---