Date:
14 October 2004 |
Season:
Valie Export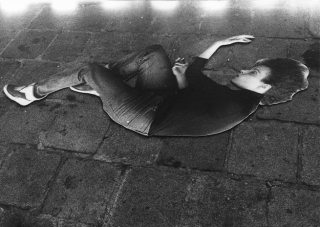 INVISIBLE ADVERSARIES
Thursday 14 October 2004, at 8:40pm
London National Film Theatre NFT2

Anna is a photographer who becomes increasingly obsessed with morbid subject matter as she undergoes a psychological breakdown. Convinced that the world is being taken over by the Hyksos – an invisible enemy that appear as immaculate duplicates of human beings – she endures a series of surreal and delusional episodes. Invisible Adversaries investigates the control and influence the media exerts on our lives, whilst also critiquing dysfunctional relationships, bourgeois society and global politics. Export's first feature is a tour-de-force that integrates her visual work in photography, performance and installation art with elements of a science fiction narrative.
Valie Export, Invisible Adversaries (Unsichtbare Gegner), Austria, 1976, 104 mins
with Susanne Widl and Peter Weibel
Also screening: Tuesday 19 October 2004, at 6:20pm
---