Date:
25 September 2004 |
Season:
Expanded Cinema 2004
|
Tags:
Dortmund
,
Expanded Cinema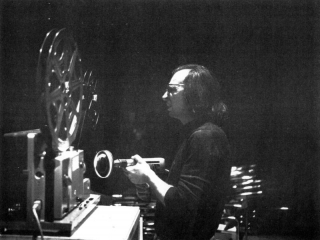 EXPANDED CINEMA: GIOVANNI MARTEDI
Saturday 25 September 2004, at 5pm
Dortmund PhoenixHalle
A partially improvised film & light performance incorporating three rarely seen works from the 1970s. Martedi rejects the camera as the primary source to create filmic imagery and his live appearances foreground the primacy of projection. M.D. et § is an event for projector, single 16mm frame, mirror and electric drill.
Giovanni Martedi, M.D. et §, 1978, c.4 min, projection performance
and other works by Giovanni Martedi

Read more
---