Date:
12 September 2004 |
Season:
Expanded Cinema 2004
|
Tags:
Dortmund
,
Expanded Cinema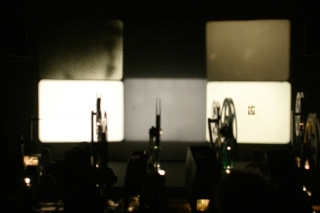 EXPANDED CINEMA: THE ACTIVE SCREEN
Sunday 12 September 2004, at 5pm
Dortmund PhoenixHalle
After Morgan Fisher's film activates the projector through a series of instructions to its operator, a programme of works that energise the normally passive screen, involving the direct participation of the artist. Guy Sherwin's magical 8mm performances subtly blur our perception of reality and the projected image. Operation uses the body as projection surface, whilst the artist must draw on the canvas of the screen to fully realise Auf+Ab+An+Zu. After Leonardo uses six projectors to juxtapose a 'real' reproduction of the Mona Lisa with its re-photographed image and a Freud text on its creator.
Morgan Fisher, Projection Instructions, 1976, 4 min, film performance
Guy Sherwin, Paper Landscape, 1975, 10 min, film performance
Werner Nekes, Operation, 1967, 4 min, film performance
Valie Export, Auf+Ab+An+Zu, 1968, 4 x 5 min, film performance
Malcolm Le Grice, After Leonardo, 1973, 22 min, multi-screen performance
Guy Sherwin, Man With Mirror, 1976, 10 min, film performance

Read more
---