Date:
11 September 2004 |
Season:
Expanded Cinema 2004
|
Tags:
Dortmund
,
Expanded Cinema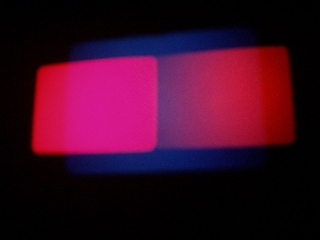 EXPANDED CINEMA: MULTI-SCREEN FILMS
Saturday 11 September 2004, at 5pm
Dortmund PhoenixHalle
Abstract colour films for 2 or 3 adjacent projectors. Liminal Minimal is a performance for mobile projectors using red, green and blue colour signals. #5 and Hand Grenade are both 3-screen action paintings produced by trails of light. In Dream Displacement, Sharits manipulates strips of single-frame colour fields, creating a soporific, cinematic meditation.
Christian Lebrat, Liminal Minimal, 1977, c.19 min, 2 screen performance
Joost Rekveld, #5 (Variation 1), 1994, 6 min, 3 screen film
Gill Eatherley, Hand Grenade, 1971, 6 min, 3 screen film
Paul Sharits, Dream Displacement, 1976, 24 min, 2 screen film
Read more
---