Date:
10 September 2004 |
Season:
Expanded Cinema 2004
|
Tags:
Dortmund
,
Expanded Cinema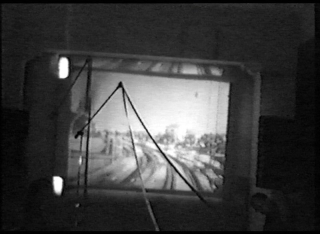 EXPANDED CINEMA: OPENING NIGHT
Friday 10 September 2004, at 8pm
Dortmund PhoenixHalle
Werner Nekes, Schnitte für ABABA, 1967, 11 min, mobile projection
A metrically edited film which animates nature and buildings through rapid changes in light. According to its original instructions, the film will projected outdoors onto the surrounding environment.
Malcolm Le Grice, Matrix, 1973, 18 min, 6 projector performance
Malcolm Le Grice, Blue Field Duration, 1972, 8 min, 2 screen film
Malcolm Le Grice, Threshold, 1972, 17 min, 3 projector performance
Malcolm Le Grice, Horror Film I, 1971, c.15 min, 3 projectors & live performance
As one of the core members of the London Film-Makers' Co-operative, Le Grice established the idea that printing processing and projection were essential creative elements of filmmaking. His colour field films of the early 70s use rich, dynamic hues, which complement and contrast each other as the projectors are moved in predetermined sequences, creating constantly varied, durational 'screen structures'.
Jürgen Reble & Thomas Köner, Alchemie, 1992, c.60 min, alchemical sound & film performance
By directly applying chemicals to the emulsion of a prepared film loop, Reble progressively decomposes and modifies the image, whilst Köner creates an electronic, aural counterpart using ambient sound. As the performance progresses, the elements are transformed into an abstract, iridescent unity.
Read more
---