Date:
21 March 2004 |
Season:
Miscellaneous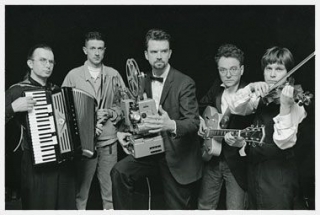 DAVID LEISTER: NATURE BOY
Sunday 21 March 2004, at 2pm
London Tate Britain Clore Auditorium
A pastoral projection by David Leister, centred around his 16mm found footage hybrid Nature Boy (1990), and films from his extraordinary and eclectic collection. Featuring glimpses through the back gardens of British amateur movie makers, an instructional film on flower arranging, and a Cine Society film with poetic commentary on the passing of the seasons. Plus surprise films and a celebration of Eden Ahbez' classic song "Nature Boy", interpreted in many strange and wonderful ways.
Arranging Flowers, date and filmmakers unknown, 12 min
A film made by and/or for a women's group demonstrating … the arranging of flowers! With commentary and tasteful music. (Kino Club Archives)
Gregory Kurcewicz, The Past is History, Tomorrow is a Mystery, Today is a Gift, That's Why it's Called The Present, 2004, 3 min
Blown up from super 8 original, flower arranging of the experimental kind.
Safety First, date and filmmaker unknown, 10 min
An educational film warning of the dangers of stinging plants using time lapse cinematography, with an equally time lapsed commentary. (Kino Club Archives)
Sophie Lascelles, Dig, 2002, 3 min excerpt of continuous loop
Created for the exhibition Diversion at the Museum of Garden History
Sophie Lascelles, Till, 2003, 3 min excerpt of continuous loop
Created for Great Piece of Turf, at Danielle Arnaud Gallery
My Second Love and Garden Girl, anonymous amateur films, date unknown, 6 min
Two clips from amateur filmmakers; the first a close up look at flowers in a backyard garden, and the second being an affectionate portrait of a young woman playing to the camera. (Kino Club Archives)
William English, Displaced, 2000, 15 min
"the more I thought of it later the more it seemed strong as an image of alienation, emptiness and just strangeness, those shots of colour on the surface somehow of those trailers, the gloss of them just being there, and the tents, the kind of mystery and (un-heavy-handed) alienation at the same time without some spurious meanings intercut, they had a necessary time of their own to impart their effect(s)… no anecdotal copouts; the whole thing gained rather than lost afterwards which is always a good sign with films I think" —Peter Gidal, August 2000
David Leister, Nature Boy, 1990, 14 min
Nature Boy is a film about making things grow. Found footage is grafted on to 'shot to match' film to produce a successful hybrid of new and old. In this way of 'recycling' imagery, Nature Boy is truly an environmentally friendly film. Aleks Kolkowski (violin) and Ian Hill (accordion) specially prepared the original music score from Kino Club sessions. Note: for maximum enjoyment a number 138 green gel should be placed over the lens during projection.
The Changing Scene, anonymous amateur film, early 1960s, 13 min
A rare 16mm amateur sound film with 'live' commentary from T. B. Sansom giving his candid and charming observations on the passing of seasons in and around Edinburgh and the north of England in the early 60s. (Kino Club Archives)
"Nature Boy: David Leister" curated by Mark Webber for LUX and Tate Britain. Programme composed by David Leister. Thanks to Ben Cook for the musical interludes.
---