Date:
2 November 2003 |
Season:
London Film Festival 2003
|
Tags:
London Film Festival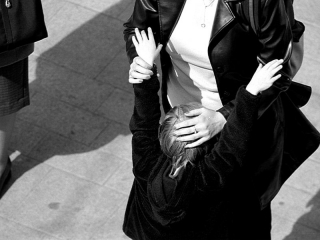 THE ILLUSION OF MOVEMENT
Sunday 2 November 2003, at 4pm
London National Film Theatre NFT3
John Smith, Worst Case Scenario, UK, 2003, 18 min
This new work by John Smith looks down onto a busy Viennese intersection and a corner bakery. Constructed from hundreds of still images, it presents situations in a stilted motion, often with sinister undertones. Through this technique we're made aware of our intrinsic capacity for creating continuity, and fragments of narrative, from potentially (no doubt actually) unconnected events.
Michele Smith, Like All Bad Men He Looks Attractive, USA, 2003, 23 min
Michele Smith, They Say, USA, 2003, 49 min
Michele Smith creates intense, hand-made collage films from a diverse assortment of film materials, mixing formats and contents with spontaneous regularity. Using a heavily re-edited 16 or 35mm film as a base, she manually weaves in other film footage, plastic shopping bags, translucent products, slides and other materials to create a master reel that is impossible to duplicate. Being too unwieldy to pass through a laboratory printer, the work must ultimately be shown on video, with the transfer done intuitively by hand, shooting frame-by-frame with a digital camera. Unlike, 2002's Regarding Penelope's Wake, these two new interchangeable pieces also contain digitally interwoven found video footage. They are truly amorphous time-based sculptures whose barrage of visual stimulus leave themselves wide open to personal interpretation. This is original and challenging work, demanding of its audience, and rewarding in its illumination.
'I want my films to be open. The viewer creates the version of the film they will see by the way in which they view it. This is on a narrative, symbolic, metaphorical level as well as on a visual and structural level. The rapid intercutting and weaving of strands of different footage and elements creates a time space where one must mix what they are seeing for themselves. There is no way to perceive the links of still images into an illusion of movement. One can, with a readjusting of their viewing, change their experience of the work throughout.' (Michele Smith)
PROGRAMME NOTES
---