Date:
2 November 2003 |
Season:
London Film Festival 2003
|
Tags:
London Film Festival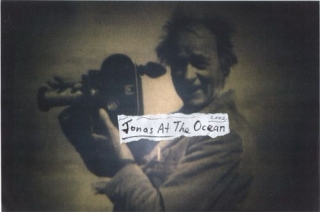 JONAS AT THE OCEAN
Sunday 2 November 2003, at 2pm
London National Film Theatre NFT3
'Jonas Mekas and his friends of free film, art and music.
A documentarypsychomusicfilm by Peter Sempel'
Peter Sempel, Jonas at the Ocean, Germany, 2002, 93 min
Together with his brother Adolphas, Jonas Mekas left Lithuania during World War II and eventually travelled to America as a 'displaced person'. After settling in New York, he soon purchased a movie camera and began documenting the lives of Lithuanian immigrants. Within a few years, he was to become a central figure in the movement toward the recognition of film as art. The brothers' arrival in New York (1949) is the film's point of departure, and readings from 'I Had Nowhere to Go', Jonas' autobiography of the period, appear throughout. Sempel loosely traces Mekas' post-war life, as told through his interactions with other members of the arts community. There are visits with Robert Frank, Merce Cunningham and Nam June Paik, and with La Monte Young and Marian Zazeela in their 'Dream House'. Allen Ginsberg tells the story of Pull My Daisy and the birth of beat cinema, while Phillip Glass speaks of Jonas' independent sprit and the beginnings of the downtown arts scene in the 60s. Sempel borrows liberally from Mekas' own films, while offering us glimpses of a life which we are more often used to seeing from his own point of view looking out.
PROGRAMME NOTES
---