Date:
1 November 2003 |
Season:
London Film Festival 2003
|
Tags:
London Film Festival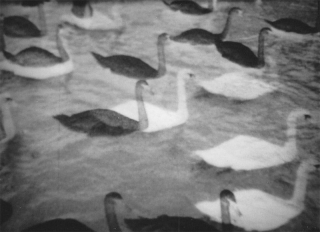 LIGHT TRACES
Saturday 1 November 2003, at 4pm
London National Film Theatre NFT3
Julie Murray, Untitled (Light), USA, 2002, 5 min
A night-time memorial to the World Trade Centre site and its 'towers of light'.
Guy Sherwin, Animal Studies, UK, 1998-2003, 25 min
A series of meditations on nature and the animal kingdom, comprising both physical and metaphysical reflection. Each has the subtle, granular pulsing that makes it seem as though these could be the first rolls of film ever wrenched through a camera.
Karl Kels, Prince Hotel, Germany, 1987-2003, 8 min
A portrait of New York's Bowery and its time-warn occupants. Though no longer solely a refuge for alcoholics and the lost, some of those characters remain, and their world is revered by Kels' camera, displaying humour and a deep sense of camaraderie.
Jimmy Robert, Embers, UK, 2003, 7 min
Using the modest Super-8 gauge to film his immediate personal surroundings, Jimmy Robert has developed a profound personal style. Fleeting moments are combined in editing, evoking moods through the juxtaposition of images.
Nathaniel Dorsky, The Visitation, USA, 2002, 18 min
'The Visitation is a gradual unfolding, an arrival so to speak. I felt the necessity to describe an occurrence, not one specifically of time and place, but one of revelation in one's own psyche. The place of articulation is not so much in the realm of images as information, but in the response of the heart to the poignancy of the cuts.'
---