Date:
15 October 2003 |
Season:
Miscellaneous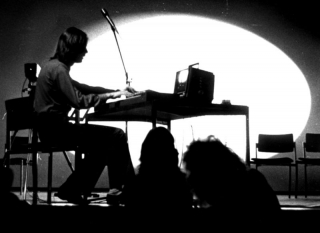 THE FUTURE IS NOT WHAT IT USED TO BE
15 October—22 November 2003
UK Tour
Three films by Mika Taanila, including his new documentary on the pioneering Finnish electronic music and cybernetic artist Erkki Kurenniemi, who began to build computer instruments in the 1960s. More recently, he has become manically preoccupied with achieving immortality by documenting his every thought and movement. Also screening: Futuro, about the flying-saucer shaped plastic house created by visionary architect Matti Suuronen, and A Physical Ring, a kinetic found-footage film with music by Mika Vainio of Pan Sonic.
Mika Taanila, Futuro: A New Stance for Tomorrow, Finland, 1998, 30 min
Mika Taanila, A Physical Ring, Finland, 2002, 4 min
Mika Taanila, The Future is Not What it Used to Be, Finland, 2002, 52 min
Mika Taanila will introduce the screening and answer audience questions on 16 October. Advance booking is recommended. Presented by LUX in association with The Finnish Institute and The Wire.
Wednesday 15 October 2003 (UK Premiere)
SHEFFIELD International Documentary Film Festival
Thursday 16 October 2003 [repeated Tuesday 28 October 2003]
LONDON The Other Cinema
Saturday 18 October 2003
GLASGOW CCA
Sunday 19 October 2003
BRIGHTON Cinematheque
Wednesday 22 October 2003
DUBLIN Electronic Arts Festival
Tuesday 28 October 2003
CANTERBURY Kent Institute of Art & Design
Thursday 6 November 2003
NEWCASTLE Cineside
Saturday 22 November 2003
BIRMINGHAM MAC
Mika Taanila (born 1965) has studied cultural anthropology at Helsinki University and graduated from Lahti Institute of Design, video department in 1992. Lives and works in Helsinki as free film director and video teacher at Academy of Fine Arts. Producer of new media arts in the Promotion Centre for Audiovisual Culture in Finland. Mika is a member of Team Avanto, organisers of Helsinki's Avanto Festival of electronic arts and media.
PROGRAMME NOTES
---