Date:
1 June 2003 |
Season:
Essential Frame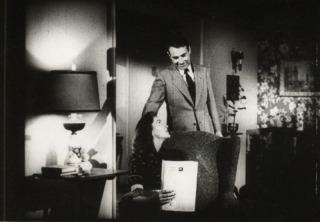 MARTIN ARNOLD. THE INTERRUPTED IMAGE.
Sunday 1 June 2003, at 3pm
London Film School
Martin Arnold will discuss his works including the well-known analytical trilogy plus three seldom screened short films and excerpts from his new digital video installation Deanimated: The Invisible Ghost, which was recently premiered at Kunsthalle Wien.
Martin Arnold, Remise, 1994, 1 min
Martin Arnold, Jesus Walking on Screen, 1993, 1 min
Martin Arnold, Don't – Der Österreichfilm, 1996, 3 min
Martin Arnold, Deanimated: The Invisible Ghost, 2002, 56 min (excerpt)
Martin Arnold, pièce touchée, 1989, 16 min
Martin Arnold, passage à l'acte, 1993, 12 min
Martin Arnold, Alone. Life Wastes Andy Hardy, 1998, 15 min
"Martin Arnold's films are merciless investigations of the historic and the present. They attempt to find within what has become strange through historical distance, something of our own, and to turn it into something else again. They ask that fundamental question regarding the nature of man and all things within a technological world which, according to Heidegger, embodies "utter transparency and, at the same time, the deepest obscurity"." —Thomas Miessgang, in the exhibition catalogue Martin Arnold: Deanimated, Springer / Kunsthalle Wien, 2002
PROGRAMME NOTES
---