Date:
31 May 2003 |
Season:
Essential Frame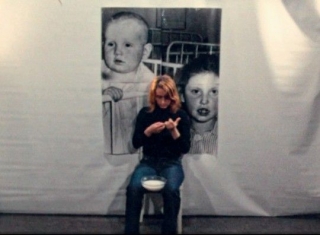 VALIE EXPORT. EXPANDED CINEMA: REMOTE LECTURE
Saturday 31 May 2003, at 3pm
London Film School
Using film, photography, video, television and live action, Valie Export has pursued a complex feminist critique of the social and political body. As one of the world's foremost performance and multi-media artists, she confronts erotic hypocrisy, invoking a new image of 'womankind'. With her pioneering work in the field of expanded cinema and installation art, technology, semantics and notions of reality are scrutinised through space and time.
Valie Export is unable to come to London at the present time, but has prepared a special 'remote lecture' which will include documentation of performances, descriptions of projection events and a selection of short films.
Valie Export, Interrupted Line, 1971-72, 3 min
Valie Export, Mann & Frau & Animal, 1970-73, 8 min
Valie Export, … Remote … Remote …, 1973, 10 min
Valie Export, Syntagma, 1984, 18 min
PROGRAMME NOTES
---