Date:
21 May 2002 |
Season:
Shoot Shoot Shoot 2002
|
Tags:
Shoot Shoot Shoot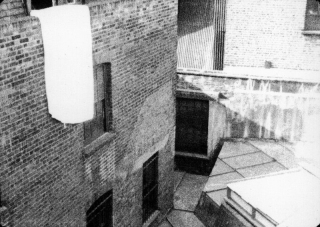 LOCATION: DURATION
Tuesday 21 May 2002, at 6:30pm
London Tate Modern
Film is a unique tool for the investigation of time and space. The subjective time of the photographed image may be measured against the objective time of projection through the use of time-lapse, editing and duration.
John Smith, Leading Light, 1975, colour, sound, 11 min
Peter Gidal, Focus, 1971, b/w, sound, 7 min
Ian Breakwell & Mike Leggett, Sheet, 1970, b/w, sound, 21 min
Malcolm Le Grice, Whitchurch Down (Duration), 1972, colour, sound, 8 min
Chris Welsby, Fforest Bay II, 1973, colour, silent, 5 min
William Raban, Broadwalk, 1972, colour, sound, 12 min
David Hall, Phased Time2, 1974, colour, sound, 15 min
First tracing sunlight moving around a room, then a static study of illumination around a night-time window. The formal Leading Light might surprise those familiar with the more humorous works of John Smith. Peter Gidal uncharacteristically used the mechanics of an automated camera to construct the loop-like rhythm of Focus, which zooms through the "static reality" of a mysterious apartment. With an electronic score by Anthony Moore. Sheet develops from a conceptual basis and could be viewed as documentation of an event. The eponymous object is seen in different locations, making this one of the few experimental films that offer us incidental glimpses of London during this period. Le Grice's film Whitchurch Down (Duration) takes three views of a landscape and combines them with pure colours and intermittent sound in progressive loop sequences and freeze-frames, positing duration as a concrete dimension. Shot to a pre-planned structure, Welsby's dynamic Fforest Bay II uses speed as the instrument with which he demonstrates the disparity between the cinematic view and the film surface. Via time-lapse, manual exposure and refilming, Broadwalk by William Raban ranges from serenity to rigour. The perceptible traces of human movement appear as ghosts in the tranquil walkway. David Hall, a pioneer of video art, displays a command of the cinematic medium in the layers of superimposition that make up Phased Time2, building up aural and visual 'chords' while mapping out a room on the flat screen.
Screening introduced by Ian Breakwell.
This programme adapts its title from Malcolm Le Grice's "Location? Duration?" exhibition of films and paintings at the Drury Lane Arts Lab in 1968.
PROGRAMME NOTES
---