Date:
19 May 2002 |
Season:
Shoot Shoot Shoot 2002
|
Tags:
Shoot Shoot Shoot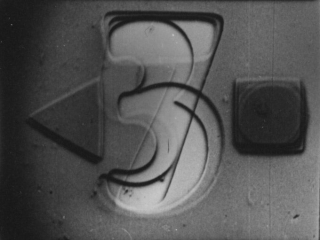 INTERVENTION & PROCESSING
Sunday 19 May 2002, at 3:00pm
London Tate Modern
The workshop was an integral part of the LFMC and provided almost unlimited access to hands-on printing and processing. Within this supportive environment, artists were free to experiment with technique and engage directly with the filmstrip in an artisan manner. By treating film as a medium in the same way that a sculptor might use different materials, the Co-op filmmakers brought a new understanding of the physical substance and the way it could be crafted.
Annabel Nicolson, Slides, 1970, colour, silent, 12 min (18fps)
Fred Drummond, Shower Proof, 1968, b/w, silent, 10 min (18fps)
Guy Sherwin, At The Academy, 1974, b/w, sound, 5 min
David Crosswaite, The Man With The Movie Camera, 1973, b/w, silent, 8 min
Mike Dunford, Silver Surfer, 1972, b/w, sound, 15 min
Jenny Okun, Still Life, 1976, colour, silent, 6 min
Lis Rhodes, Dresden Dynamo, 1971, colour, sound, 5 min
Chris Garratt, Versailles I & II, 1976, b/w, sound, 11 min
Roger Hewins, Windowframe, 1975, colour, sound, 6 min
Annabel Nicolson pulled prepared sections of film (which might be sewn, collaged, perforated) through the printer to make Slides. Fred Drummond's Shower Proof, an early Co-op process film, exploits the degeneration of the image as a result of successive reprinting, intuitively cutting footage of two people in a bathroom. Guy Sherwin uses layers of positive and negative leader to build a powerful bas-relief in At The Academy, while Jenny Okun explores the properties of colour negative in Still Life. Considered and brilliantly executed, The Man with the Movie Camera dazzles with technique as focus, aperture and composition are adjusted to exploit a mirror positioned in front of the lens. For Silver Surfer, Mike Dunford refilms individual frames of footage originally sourced from television as waves of electronic sound wash over the shimmering figure. Contrasting colours and optical patterns intensify the illusion that Lis Rhodes' Dresden Dynamo appears to hover in deep space between the viewer and the screen. Garratt's Versailles I & II breaks down a conventional travelogue into repetitive, rhythmic sections. Roger Hewins employs optical masking to create impossible 'real time' events which, though prosaic, appear to take on an almost sacred affectation in Windowframe.
Screening introduced by Lis Rhodes.
PROGRAMME NOTES
---