Date:
12 May 2002 |
Season:
Shoot Shoot Shoot 2002
|
Tags:
Shoot Shoot Shoot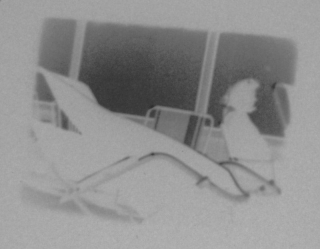 STRUCTURAL / MATERIALIST
Sunday 12 May 2002, at 3:00pm
London Tate Modern
The enquiry into the material of film as film itself was an essential characteristic of the Co-op's output. These non- and anti- narrative concerns were fundamentally argued by the group's principal practising theorists Malcolm Le Grice and Peter Gidal.
Roger Hammond, Window Box, 1971, b/w, silent, 3 min (18fps)
Mike Leggett, Shepherd's Bush, 1971, b/w, sound, 15 min
David Crosswaite, Film No. 1, 1971, colour, sound, 10 min
Mike Dunford, Tautology, 1973, b/w, silent, 5 min
Peter Gidal, Key, 1968, colour, sound, 10 min
John Du Cane, Zoom Lapse, 1975, colour, silent, 15 min
Malcolm Le Grice, Little Dog For Roger, 1967, b/w, sound, 13 min
Gill Eatherley, Deck, 1971, colour, sound, 13 min
In explaining their (quite different) ideas in some erudite but necessarily dense texts Le Grice and Gidal have in some ways contributed to misunderstandings of this significant tendency in the British avant-garde. (For example, It is not the case, as is often proposed, that films were made to justify their theories.) Le Grice was instrumental in acquiring, installing and operating the equipment at the Co-op workshop that afforded filmmakers the hands-on opportunity to investigate the film medium. His own work developed through direct processing, printing and projection, providing an understanding of the material with which he could examine filmic time through duration, while touching on spectacle and narrative. By contrast, Gidal's cool, oppositional stance was refined to refute narrative and representation, denying illusion and manipulation though visual codes. His uncompromising position resists all expectations of cinema, even modernist formalism and abstraction. The artistic and theoretical relationship of these two poles of the British avant-garde, who were united in opposing 'dominant cinema', is a complex set of divergences and intersections.
Originally intended as a test strip, the first film produced at the Dairy on the Co-op step-printer was Mike Leggett's Shepherd's Bush, in which an obscure loop of abstract footage relentlessly advances from dark to light. The two short films by Roger Hammond and Mike Dunford concisely encapsulate an idea; while Window Box exploits the viewer's anticipation of camera movement and shrewdly transforms a seemingly conventional viewpoint, the permanence of the cinematic frame is the focus of Tautology's brief enquiry. By translating footage across different gauges, Crosswaite and Le Grice explore variations in film formats: Film No. 1 uses permutations and combinations of unsplit 8mm, while Little Dog for Roger directly prints 9.5mm home movies onto 16mm stock. In Key, Gidal plays on the ambiguity of an image to challenge and refute the observer's interpretation of it, while intensifying disorientation through his manipulation of the soundtrack. Du Cane's Zoom Lapse comprises dense multiple overlays of imagery, vibrating the moment, while Eatherley's Deck re-photographs a reel of 8mm film, which undergoes a mysterious transformation through refilming, colour changing and printing.
Screening introduced by Roger Hammond.
PROGRAMME NOTES
---