Date:
4 May 2002 |
Season:
Shoot Shoot Shoot 2002
|
Tags:
Shoot Shoot Shoot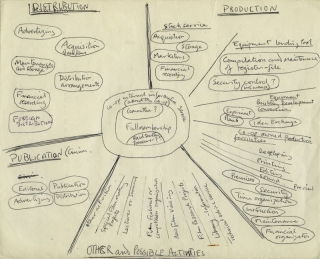 SHOOT SHOOT SHOOT: SEMINAR
Saturday 4 May 2002, at 2pm
London Tate Modern
A symposium and gathering which will re-examine the period in which many British artists embarked on radical experiments with non-illusionist filmmaking and made important innovations in multi-screen and expanded cinema projection. Discussions will address the emergence of an underground movement, its international significance, and the relations between avant-garde film and mainstream cinema, experimental video, painting, sculpture, performance and photography.
Speakers include David Curtis from the AHRB Centre for British Film and Television Studies, film historians Ian Christie, Al Rees, and others. An artists' panel featuring Peter Gidal, Anthony McCall, Lis Rhodes and Chris Welsby will be chaired by Michael Newman (Principal Lecturer in Research, Central Saint Martin's School of Art). Plus selected special screenings. Many of the filmmakers whose work is featured in the season will be present and encouraged to contribute.
Presented by Tate Modern in collaboration with the School of Art at Central Saint Martins School of Art and Design.
This event will be webcast at www.tate.org.uk/modern/programmes/webcasting/
---