Date:
3 May 2002 |
Season:
Shoot Shoot Shoot 2002
|
Tags:
Shoot Shoot Shoot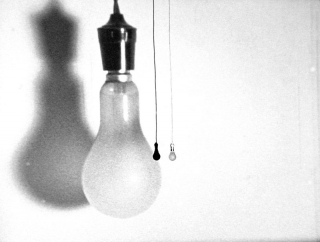 EXPANDED CINEMA
Friday 3 May 2002, at 7:30pm
London Tate Modern Level 7 East
British filmmakers led a drive beyond the screen and the theatre, and their innovations in expanded cinema inevitably took the work into galleries. After questioning the role of the spectator, they began to examine the light beam, its volume and presence in the room.
Malcolm Le Grice, Castle One, 1966, b/w, sound, 20 min
William Raban, Take Measure, 1973, colour, silent, 2 min
William Raban, Diagonal, 1973, colour, sound, 6 min
Gill Eatherley, Hand Grenade, 1971, colour, sound, 8 min
Lis Rhodes, Light Music, 1975-77, b/w, sound, 20 min
Anthony McCall, Line Describing A Cone, 1973, b/w, silent, 30 min
In a step towards later complex projection pieces, for Castle One, Malcolm Le Grice hung a light bulb in front of the screen. Its intermittent flashing bleaches out the image, illuminates the audience and lays bare the conditions of the traditional screening arrangement. Take Measure, by William Raban, visually measures a dimension of the space as the filmstrip is physically stretched between projector and screen. To make Diagonal, he directly filmed into the projector gate and presents the same flickering footage in dialogue across three screens in an oblique formation. Gill Eatherley literally painted in light over extremely long exposures to shoot Hand Grenade, which runs three different edits of the material side-by-side. Light Music developed into a series of enquiries into the nature of optical soundtracks and their direct relation to the abstract image. The film can be shown in different configurations, with projectors side-by-side or facing into each other. Anthony McCall succinctly demonstrates the sculptural potential of film as a single ray of light, incidentally tracing a circle on the screen, is perceived as a conical line emanating from the projector. The beam is given physical volume in the room by use of theatrical smoke, or any other agent (such as dust) that would thicken the air to make it more apparent. More than just a film, Line Describing a Cone affirms cinema as a collective social experience.
Screening introduced by William Raban and Anthony McCall.
Programme repeated on Monday 6 May 2002, at 7:30pm

PROGRAMME NOTES
---