Date:
18 October 2001 |
Season:
Cinema Auricular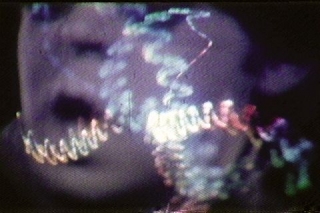 OHM TAPING: TAPE COMPOSITIONS & MUSIQUE CONCRETE
Thursday 18 October 2001, at 7:30pm
London Barbican Cinema
Before the sampler: the tape machine. Before the break-beat: the tape loop. Before plunderphonics: musique concrete. Going back to a time when it was inventive and original to play with and re-appropriate snatches of sound gathered from disparate sources. Pre post-modernism from pre-eminent filmmakers.
Note: Where the soundtrack is not by the filmmaker, the composer's name is in square brackets
Malcolm Le Grice, Threshold, 1972, 10 min
Keewatin Dewdney, The Maltese Cross Movement, 1967, 8 min [The Beach Boys]
Carolee Schneemann, Viet Flakes, 1965, 9 min [James Tenney]
John Schofill , Xfilm, 1966-68, 14 min [William Moraldo]
Stan Brakhage, I … Dreaming, 1988, 7 min [Joel Haertling]
Jud Yalkut & Nam Jun Paik, Beatles Electroniques, 1966-69, 3 min [Kenneth Werner]
JJ Murphy, Ice, 1972, 7 min
Ivan Zulueta, Masaje, 1972, 3 min
Jeff Keen, Marvo Movie, 1967, 5 min [Bob Cobbing]
Robert Breer, Fist Fight, 1964, 9 min [Karlheinz Stockhausen]
Eino Ruutsalo, Kaksi Kanaa, 1963, 4 min [Erkki Kurenniemi]
Jud Yalkut, Turn Turn Turn, 1965-66, 10 min [The Byrds]
PROGRAMME NOTES
---