Date:
17 October 2001 |
Season:
Cinema Auricular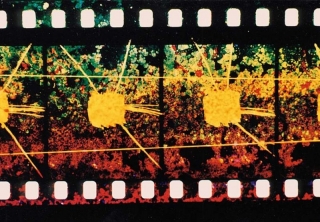 SEEING SOUND: LIGHTNING STRIKES THE OPTIC NERVE
Wednesday 17 October 2001, at 7:30pm
London Barbican Cinema
Optical sound on 16mm film – a lightbulb reads a strip of amorphous black emulsion on clear celluloid and it somehow makes sound sense. Since the 1930s artists have examined and exploited the possibilities of drawing or printing a soundtrack. Two senses combined and confounded, both musical and cacophonous. Can you see what you hear?
Oskar Fischinger, Ornament Sound, 1932, 7 min
Norman McLaren, Dots (Points), 1948, 3 min
Barry Spinello, Soundtrack, 1969, 10 min
Richard Reeves, Linear Dreams, 1997, 7 min
Pierre Rovere, Black and Light, 1974, 8 min
Lis Rhodes, Dresden Dynamo, 1974, 5 min
Chris Garrett, Exit Right, 1976, 3 min
Jun'ichi Okuyama, My Movie Melodies, 1980, 7 min
Guy Sherwin, Musical Stairs, 1977, 10 min
Peter Tscherkassky, L'Arrivée, 1998, 3 min
Taka Iimura, Shutter, 1971, 22 min
Screening introduced by filmmaker Guy Sherwin.
PROGRAMME NOTES
---