Date:
17 October 2001 |
Season:
Cinema Auricular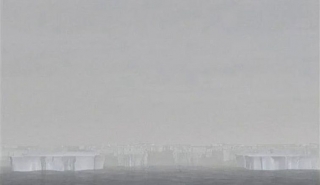 NEW AGE VOLTAGE: CONTEMPORARY DIGITAL SOUND AND VISION
Wednesday 17 October 2001, at 6:00pm
London Barbican Prompt Corner
The sounds of the analogue versus the digital, burning a cathode ray hole direct through your retina. A video programme of recent audio-visions from Vienna and other painfully modern assemblages from UK, France and Canada. Having broken sound and image down to its constituent blips and pixels, these contemporary filmmakers are reconstructing matter in beguiling new ways.
Note: Where the soundtrack is not by the filmmaker, the composer's name is in square brackets
Billy Roisz & Dieter Kovacic, smokfraqs, 2001, 4 min
Steven Ball, Sevenths Synthesis, 2001, 7 min
Myriam Bessette, Azur, 2001, 3 min
Jurgen Moritz, Instrument, 1997, 5 min [Christian Fennesz]
Ben Pointeker, Overfart, 1999, 6 min [General Magic]
Nicolas Berthelot, Chrominances, 2000, 6 min
ReMI, comp.tot4: Zarakesh, 1999, 10 min [Renata Oblak]
[n:ja], track 09, 2001, 4 min [Shabotinski]
Herwig Weiser, Entrée, 1999, 9 min
Michaela Schwentner, Transistor, 2000, 6 min [Radian]
Karoe Goldt, ILOX, 2001, 3 min [Rashim]
PROGRAMME NOTES
---