Date:
16 October 2001 |
Season:
Cinema Auricular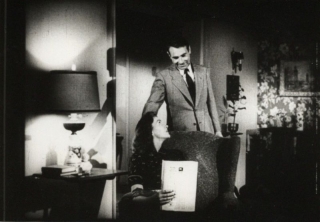 CURRENTS OF CHAOS: ELECTRO-SHOCK CINEMA
Tuesday 16 October 2001, at 6:15pm
London Barbican Cinema
Confusion … delusion … retribution. Electronic feel flows as your nervous system careens into overdrive. From the chaotic Outer Space to the sublime #11, five films plugged directly into the National Grid to give maximum audio-visual pleasure (or pain). Throbbing, shouting, screaming, smashing … This is not for the faint-hearted, but what doesn't kill you makes you stronger.
Note: Where the soundtrack is not by the filmmaker, the composer's name is in square brackets
Peter Tscherkassky, Outer Space, 1999, 10 min
Hollis Frampton, Critical Mass, 1971, 25 min
Martin Arnold, pièce touchée, 1989, 15 min
Paul Sharits, Axiomatic Granularity, 1972-73, 20 min
Joost Rekveld, #11 (Marey<->Moiré), 1999, 21 min [Edwin van der Heide]
PROGRAMME NOTES
---