Date:
15 October 2001 |
Season:
Cinema Auricular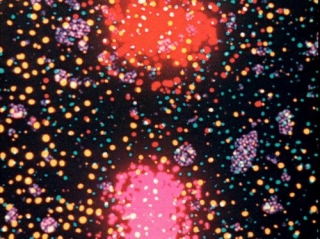 TRANSCENDENT POWER: ELECTRONIC ELEVATION AND SYSTEM STIMULATION
Monday 15 October 2001, at 7:30pm
London Barbican Cinema
Going beyond direct experience into the spiritual and ecstatic realms, reaching outwards / inwards / upwards toward perception. Beginning with a film that "plays directly on the mind through programatic stimulation of the central nervous system" and ending with Bruce Conner's amazing hallucinogenic journey. Rarely seen works by the abstract masters Davis and Belson, plus Kirchhofer's stunning dematerialization of celluloid and Vegter's captivating computer piece.
Note: Where the soundtrack is not by the filmmaker, the composer's name is in square brackets
Standish Lawder, Raindance, 1972, 16 min [Robert Withers]
James Whitney, Yantra, 1950-57, 8 min [Henk Badings]
James Davis, Energies, 1957, 10 min [Norman De Marco]
Patrice Kirchhofer, Densité Optique 1, 1977, 27 min
Daina Krumins, The Divine Miracle, 1973, 5 min [Rhys Chatham]
Bart Vegter, Nacht Licht, 1993, 13 min [Kees van der Knaap]
Jordan Belson, Allures, 1961, 7 min
Bruce Conner, Looking For Mushrooms, 1961/96, 15 min [Terry Riley]
PROGRAMME NOTES
---