Date:
14 October 2001 |
Season:
Cinema Auricular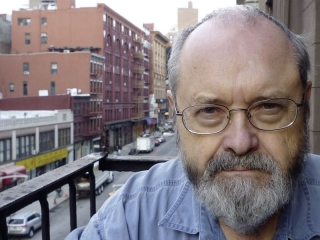 PHILL NIBLOCK LIVE PERFORMANCE
Sunday 14 October 2001, at 6:15pm
London Barbican Pit Theatre
Intermedia artist Phill Niblock (USA) presents a concert of live and pre-recorded microtonal music with simultaneous triple video projection of sections from his long running Movement of People Working film series, shot in Mexico, Peru, Brasil, and China. Niblock makes thick, loud drones of music, filled with microtones of instrumental timbres that generate a multitude of difference tones in the performance space.
Phill Niblock, Hurdy Hurry (for Hurdy Gurdy)
Phill Niblock, A Y U Live (aka As Yet Untitled) (for Baritone Voice)
Phill Niblock, Guitar Too, For Four (for Electric Guitar)
Phill Niblock, Pan Fried 25 (for Bowed Piano)
Guitar Too, For Four will be augmented by a live electric guitar quartet featuring Jem Finer, Robert P. Lee, Matt Rogalsky and Mark Webber.
---