Date:
13 October 2001 |
Season:
Cinema Auricular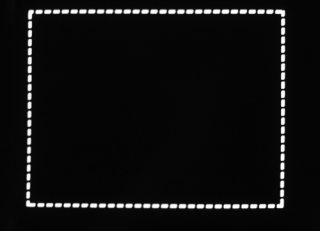 OF SYNTHESIS AND SYNTHETICS
Saturday 13 October 2001, at 3:00pm
London Barbican Pit Theatre
Sounds emanating from the early electro-acoustic studios and the primitive/pioneering synthesisers of Robert Moog and Don Buchla. An informal film screening punctuated by recordings of scarce and wonderful electronic music through the ages played by Mark Webber and Gregory Kurcewicz. Including Mick Jagger's mind-bending score for Kenneth Anger's Invocation of My Demon Brother and rare recordings of Varese and Ussachevsky. Come hang out, watch films, listen to music, drink coffee, pretend to stroke your beard (though that's an entirely inappropriate thing to do).
Note: Where the soundtrack is not by the filmmaker, the composer's name is in square brackets
William Pye, Reflections, UK, 1972, colour, sound, 17 min
David Ringo, Balconies One, USA, c.1968, b/w, sound, 6 min [Edgar Varese]
Ian Hugo, Aphrodisiac I, USA, 1971, colour, sound, 6 min [David Horowicz]
Adam Beckett, Heavy-Light, USA, 1973, colour, sound, 7 min [Barry Schrader]
Hollis Frampton, Special Effects (Hapax Legomena VII), USA, 1972, b/w, sound, 11 min [Don Buchla & Victor Grauer]
Lloyd Williams, Two Images For A Computer Piece (With Interlude), USA, 1970, b/w, sound, 10 min [Vladimir Ussachevsky]
Ed Emshwiller, Thermogenesis, USA, 1972, colour, sound, 12 min [Robert Moog & Jeff Slotnik]
Tom De Witt, AtmosFear, USA, 1966, colour, sound, 6 min
Kenneth Anger, Invocation Of My Demon Brother, USA, 1969, colour, sound, 11 min [Mick Jagger]
Norman McLaren, Synchromy, Canada, 1971, colour, sound, 7 min
David Rimmer, Migration, Canada, 1969, colour, sound, 12m [Phil Werren]
---