Date:
5 November 2000 |
Season:
Ken Jacobs Nervous System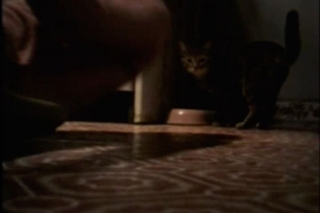 KEN JACOBS NERVOUS SYSTEM
London Lux Cinema
Sunday 5 November 2000, at 7pm
CRYSTAL PALACE
Ken Jacobs, USA, 1997, Nervous Magic Lantern, b/w, sound, c.25 min
Impossible movements … impossible spaces … issue forth from a single, somewhat unusual slide projector (of British manufacture) employed in an unexpected way. Cinema without film or electronics. And, as with The Nervous System (utilising pairs of projectors), depth phenomena is produced that can be seen as such without special viewing spectacles, and even by a single eye. (Ken Jacobs)
THE WINTER FOOTAGE
Ken Jacobs, USA, 1964/84, 16mm, colour, silent, 43 min
With Flo Jacobs, Bob Fleischner, Murray Greenberg, Bill Carpenter, Arty Rosenblatt, Storm De Hirsch, Louis Brigante, Dave Levenson, Diana Bachus, Bob Cowan, Ken Jacobs
Camera Movement enabled me to feel out my place among people and things. Lateral movement especially – because close objects pass faster than distant – located things in a depth my newly acquired zoom lens could play into, expanding and contracting, playing depth against flat-screen imagery. We lived alongside the Manhattan side of the Brooklyn Bridge, a ghost town nights and weekends. A big walker and looker, I became familiar with many objects comprising our neighbourhood, and invited them to the cine-dance I threw. Framing drew them together and split them in ways they could never understand but together we achieved some animation. Gravity held us all but when I moved and moved the camera it's the scene that convulses onscreen. There were things on my mind, too, and certain persons, I found, could lend a face to them. For instance: Flo and I were marrying, slowly, with difficulty, and I looked to Storm and Louis (their domestic scene on the traffic safety island) for assurance that it needn't mean personality extinction.
The impossible gathering about the fire of irreconcilable entities…I'd heard about a peace beyond understanding and I was trying for it (in real life I want no reconciling of Nazis and Jews as such). I needed a break from what I knew. I was interested in composing film only inasmuch as it served to compose me. It was my film, my necessary respite dream.
The Winter Footage comes between Baud'larian Capers 1963 (subtitled A Musical with Nazis and Jews) in which Flo starts to get to me, The Sky Socialist … in which we form a strawberry swirl. (Ken Jacobs)
KIRK AND KERRY
Azazel Jacobs, USA, 1996, 16mm, colour, sound, 25 min
A clash of realities: should he stay or should he go ? An actual couple, Kirk Acevedo and Kerry Johnson perform (or perhaps manifest) the problems of being a couple. The story takes place between given lines and documented feelings, resulting in an oil and water mix of film and life.
"This film excited me with its genuine curiosity about fictional characters and what we think we're doing when we bring them to life. It's a formal experimental film, with a frank and open interest in human beings." (Hal Hartley, director)
"[Kirk and Kerry] incorporates the language of the American avant-garde into a film whose premises are in line with Cassavetes, Godard and Hal Hartley … Its subject matter is exactly of the moment. I've never seen anything quite like it." (Amy Taubin, The Village Voice)
"It's a movie within a movie, and others have tried a similar idea, but I think I prefer this to all the others." (Jonas Mekas, filmmaker)
NB: Unfortunately it was not possible to present "The Alps and The Jews" as originally advertised for this programme.
---