Date:
4 November 2000 |
Season:
London Film Festival 2000
|
Tags:
London Film Festival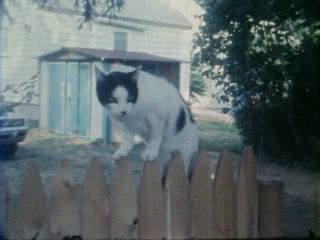 AS I WAS MOVING AHEAD OCCASIONALLY I SAW BRIEF GLIMPSES OF BEAUTY
Saturday 4 November 2000, at 5pm
London National Film Theatre NFT2
As I Was Moving Ahead … is the new film from Jonas Mekas, the self-assumed saint of all cinema. This latest instalment of his diaries, covering the years 1970-99, continues in the style he originated in Walden (Diaries, Notes and Sketches) (1964-69). In these films, he has presented all aspects of his life, since the first shaky shots made in 1949, when he purchased a 16mm camera only weeks after arriving in New York, having spent four years in displaced persons camps across war torn Europe.
Mekas has been an untiring advocate of the art of film since co-founding Film Culture magazine in 1955, and from 1958-75 he wrote the influential Movie Journal column in the Village Voice newspaper. In the 1960s he was instigator of the Film-Makers' Cooperative, a non-discriminatory distribution centre for experimental film. After presenting many showcases for experimental work, in 1970 Mekas realised his dream to build the "cathedral of cinema", Anthology Film Archives, one of the earliest centres exclusively devoted to the preservation and presentation of Film As Art. At the age of 78, Mekas is still active as the artistic director Anthology and continues to be one of the driving forces of truly independent cinema.
In his films, Mekas tries to liberate cinema from convention; he is filming, but not making films. Months, seasons, years, come and go, and Jonas continues to record his life with a wide-eyed innocence. He impulsively documents what is happening around him by quickly shooting "fragments of time", in which only quick bursts of several frames at a time may be exposed. Whether in the presence of fellow filmmakers, writers or musicians, or when spending time at home with his family, each is given the same attention from his camera gaze. Memories of his wedding, the birth and infancy of his son and daughter, trips to Europe and family holidays in New Hampshire are all here for us to share. A few well-know faces such as William Burroughs, Allen Ginsberg or Elvis Presley may briefly appear, but it is not necessary to recognise anyone in the film, we can still each share the collective memories that relate to our own lives. These pages of his diary are less star-studded than previous films, it is an intensely personal work.
Sometimes Mekas comments on the action or occasionally philosophises, usually introducing each chapter by downplaying the significance of the footage, constantly reminding us that nothing happens in the film. That nothing happens is precisely what makes the film so wonderful. That which Mekas presents as the "ecstasy of being in New York" can be seen as the ecstasy of being alive. Life goes on, and Mekas, well known as a lover of cinema, is revealed to be a lover of humanity.
AS I WAS MOVING AHEAD OCCASIONALLY I SAW BRIEF GLIMPSES OF BEAUTY
Jonas Mekas, USA, 1970-99, 16mm, colour, sound, 320 min
Part 1, Chapters 1-6: Saturday 4 November 2000, at 5pm, NFT1
Part 2, Chapters 7-12: Sunday 5 November 2000, at 1pm, NFT2
---