Date:
27 October 1998 |
Season:
Underground America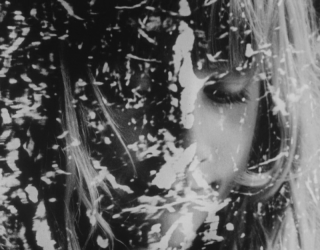 FEMALE UNDERGROUND
Tuesday 27 October 1998, at 6:30pm
London Barbican Cinema
The underground was not solely a male domain. Mary Ellen Bute was an early pioneer of abstract film. Marie Menken and Shirley Clarke were two of the most important new filmmakers to emerge in the late 1950s and remain respected film artists to this day. In the early 1960s the female filmmakers made some of the most erotic and personal films – Fuses and the double projection piece Christmas On Earth are unique expressions, and Naomi Levine's Yes is a rare and beautiful pastorale. Joyce Wieland and Gunvor Nelson were both married to filmmakers but were artists of merit in their own right. In 1933 and Sailboat, Wieland shows she was one of the first people to make Structural films.
Mary Ellen Bute, Mood Contrasts, 1954, 7 min
Marie Menken, Hurry, Hurry, 1957, 3 min
Shirley Clarke, Bridges Go Round, 1958, 7 min
Naomi Levine, Yes, 1963, 24 min
Barbara Rubin, Christmas On Earth (double screen), 1963, 31 min
Carolee Schneemann, Fuses, 1964-68, 22 min
Joyce Wieland, 1933, 1967, 5 min
Joyce Wieland, Sailboat, 1967, 5 min
Gunvor Nelson, My Name Is Oona, 1969, 10 min
PROGRAMME NOTES
---