Date:
25 October 1998 |
Season:
Underground America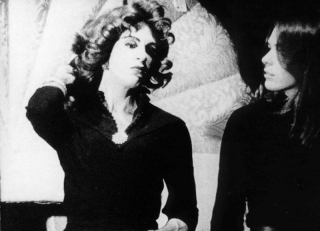 AROUND THE FACTORY
Sunday 25 October 1998, at 8:45pm
London Barbican Cinema
When Andy Warhol decided to retire from fine art to concentrate on movies it was a major endorsement that increased awareness of the avant-garde film. He recreated the history of cinema from the kiss through the silents to the talkies before developing his own commercial features. By the time of Lupe he had formed his own style that now owed little to his early influences like Jack Smith and Ron Rice. Edie Sedgwick stars in this beautiful film which will be shown here in a double screen format. Marie Menken's film is a portrait of Warhol in his studio, and her husband the poet Willard Maas shot the silver balloon show at Leo Castelli's gallery. Super-Artist is a long lost documentary of the Warhol Factory shot in 1965. Andy made Screen Tests for inclusion in Match Girl – a neglected but beautiful work made in the Factory by Andrew Meyer. Taylor Mead's fast paced film diary includes on location footage from the unreleased San Diego Surf.
Marie Menken, Andy Warhol, 1965, 22 min
Willard Maas, Andy Warhol's Silver Flotations, 1966, 5 min
Andy Warhol, Hedy (double screen), 1965, 33 min
Andrew Meyer, Match Girl, 1966, 26 min
Bruce Torbet, Super-Artist Andy Warhol, 1967, 21 min
Taylor Mead, Home Movies: NYC to San Diego, 1968, 19 min
PROGRAMME NOTES
---