Date:
24 October 1998 |
Season:
Underground America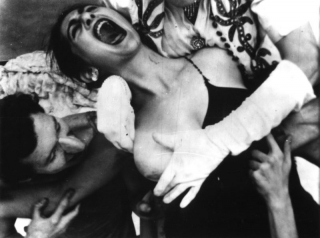 FLAMING CREATURES
Saturday 24 October 1998, at 8:45pm
London Barbican Cinema
Flaming Creatures was for many years the cause célèbre of the underground, being the subject of high profile busts and seizures, and its Baghdadian vision can still be shocking now. The authorities of the day often used this movie as proof that the underground films were all full of nudity and depravity. It's maker, Jack Smith, was a key figure in the New York scene and starred in many of the best known films as well as his own unique theatre presentations. The monumental Flaming Creatures is shown here with some forgotten erotic escapades: Jerovi looks at the Narcissus myth, Avocada is a smouldering study of high art writhing, and Soul Freeze by Kuchar Brothers star Bob Cowan explores with shocking intensity the guilty fantasies of a Catholic priest.
Jack Smith, Flaming Creatures, 1962-63, 45 min
Jose Rodriguez-Soltero, Jerovi, 1965, 12 min
Bill Vehr, Avocada, 1966, 37 min
Bob Cowan, Soul Freeze, 1967, 25 min
PROGRAMME NOTES
---