Date:
23 October 1998 |
Season:
Underground America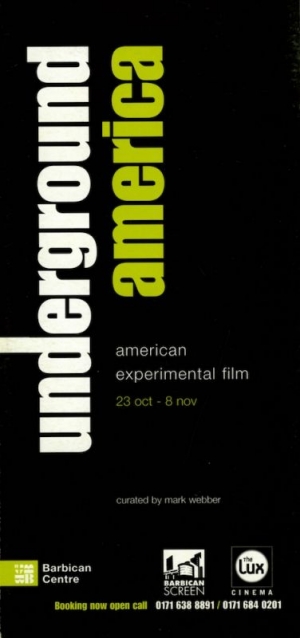 UNDERGROUND AMERICA
23 October – 8 November 1998
London Barbican Centre & Lux Cinema
Throughout 1998 the Barbican Centre in London is presenting Inventing America, a huge celebration of American arts and culture. This yearlong project is the biggest festival of American music, theatre, art, literature and film ever seen in Europe. The Underground America series is the largest survey of American experimental and avant-garde film that has ever been staged in the UK. The season will be shown in two halves – at the Barbican Screen between 23-29 October and at the Lux Cinema between 1-8 November 1998.
Underground America particularly concentrates on the New York scene of the mid-1960's which was a pivotal and defining moment for experimental cinema. It includes at least one work by all the major US film artists and a few important "honorary" Americans are also being represented. Acknowledged masters of avant-garde film such as Maya Deren, Stan Brakhage and Kenneth Anger will be shown alongside less well-known but equally important film-makers who will belatedly receive their British premieres. The Underground America programme is not intended as a complete guide to the most celebrated works of American experimental film but will be a wide-ranging survey of the New American Cinema and the choice of films is specifically geared to show works that have rarely – if ever – been shown in this country. Many of the films are being brought over from the New York Film-Makers' Cooperative and other important collections around the world.
The 16 programmes in this season will display the innocence, decadence, beauty and vision of a group of film-makers who went on to inspire a new wave of independent American directors like David Lynch, Brian De Palma, Martin Scorsese and John Waters and without whom MTV, music videos and commercial television wouldn't look at all the same. 99 films will receive rare screenings to present a once-in-a-lifetime opportunity for London cinema goers to experience the many aspects underground film scene. And please remember – these movies are not just for film students, they are wonderful entertainment and you will be amazed.
Curated by Mark Webber for the Barbican Centre.
Each programme is approximately two hours long. All programmes are subject to slight changes owing to print quality and availability.
UNDERGROUND AMERICA would not have been possible without the kind assistance of Robert Rider & Helen Johnson at the Barbican, Helen De Witt at the Lux, David Curtis & Gary Thomas at the Arts Council of England, MM Serra at New York Film-makers' Cooperative, Jonas Mekas & John Mhiripiri at Anthology Film Archives, Dominic Angerame at Canyon Cinema, Beth Copley at London Film-makers' Co-op, Jud Yalkut, Ken & Flo Jacobs, Tosh Berman, Victor Grauer, Ernie Gehr, Owen Land, Bruce Torpet, Gerard Malanga, Taylor Mead, Robert Beavers, Katerina Gregos at Deste Foundation, Miles McKane at Light Cone, Antonie Bergmeier at Cinedoc / Paris Films Coop, London Electronic Arts, BFI Distribution & Stills Department.
...and BEYOND HOLLYWOOD...
---