Date:
23 October 1998 |
Season:
Underground America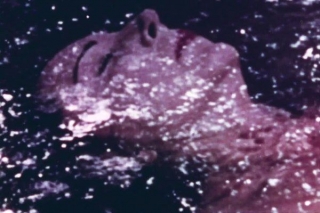 SURREALISM
Friday 23 October 1998, at 8:30pm
London Barbican Cinema
Many of the early American personal films were directly influenced by the Surrealist and Expressionist works that came out of Europe in the preceding decades and this opening selection demonstrates how the American film-makers developed the ideas of the past into their own style. Maya Deren was possibly the most important early pioneer of the new cinema and her Meshes Of The Afternoon was a major statement. The poet James Broughton's nostalgic comedy Mother's Day takes a perverse look at a childhood dominated by mother. Sidney Peterson made sophisticated and witty films that were rooted in Surrealism. Bells Of Atlantis is a masterful assemblage featuring the writer Anais Nin. Joseph Cornell was an artist known for his enchanting box constructions and his rarely seen films are similarly magical. Womancock is a confusing assault of imagery and Our Lady Of The Spheres is a phantasmagorical animation of Surrealistic engravings.
Maya Deren, Meshes Of The Afternoon, 1943, 18 min
James Broughton, Mother's Day, 1948, 23 min
Sidney Peterson, The Lead Shoes, 1949, 17 min
Ian Hugo, Bells Of Atlantis, 1952, 10 min
Joseph Cornell & Rudy Burckhardt, A Fable For Fountains, 1957, 7 min
Carl Linder, Womancock, 1966, 10 min
Larry Jordan, Our Lady Of The Sphere, 1969, 10 min
PROGRAMME NOTES
---