Date:
23 October 2011 |
Season:
London Film Festival 2011
|
Tags:
London Film Festival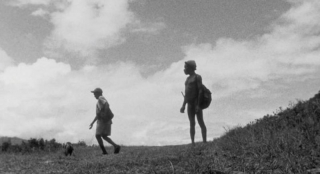 ON THE ROAD WITH ROBERT FENZ
Sunday 23 October 2011, at 9pm
London BFI Southbank NFT3
Robert Fenz's films explore cultural diversity and the human condition with a keen eye reminiscent of his tutors Peter Hutton and James Benning. Mixing improvisation with luminous photography, he offers a poetic but political worldview. An associate of Robert Gardner's Studio7Arts, Fenz has collaborated with musician Wadada Leo Smith and worked as cinematographer for Chantal Akerman.
Robert Fenz, The Sole of the Foot, USA, 2011, 34 min
Filmed in France, Israel and Cuba. 'Borders (and all the politics attending the drawing of borders) exist to keep some people in (citizenship) and others out. This film is an attempt to capture the presence of people otherwise denied the political right to be at home in some place that is their home, where they have their roots, where they have their being.' (RF)
Robert Fenz, Correspondence, USA, 2011, 30 min
For Correspondence, Fenz travelled to places where the pioneering ethnographic filmmaker Robert Gardner shot three of his best-known films – West Papua (Dead Birds), Ethiopia (Rivers of Sand) and India (Forest of Bliss). While documenting present conditions in these locations, Fenz also constructs an elegy for a form of image-making that is now in decline.
Also Screening: Monday 24 October 2011, at 2pm, NFT3
PROGRAMME NOTES
---