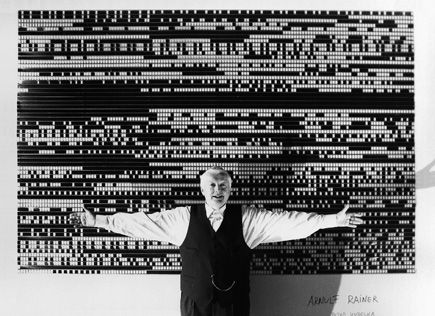 ARTISTS' FILM AND VIDEO AT THE LONDON FILM FESTIVAL
This year's BFI London Film Festival presents its largest ever series of artists moving image programmes, culminating in the annual Experimenta Weekend from 19-21 October 2012.
In collaboration with the ICA, the Festival will also present several screenings of artists' films to coincide with the Frieze Art Fair, from 10-13 October 2012. Our alternative opening night programme features the latest long-form work by Turner Award nominee Luke Fowler and a portrait of artist Carolee Schneemann. Further programmes at the ICA include the launch of our focus on special guest Peter Kubelka.
From his earliest film, Kubelka recognised that cinema could be so much more than a medium for telling stories, and he has been one of the most tireless advocates of film as an art form. His new work Antiphon (2012) will screen with Arnulf Rainer (1960) in an expanded projection event Monument Film on Sunday 21 October. Both films will also be exhibited on the walls of the BFI Southbank Atrium for the duration of the Festival. Martina Kudlacek's epic documentary on Kubelka will screen at the ICA, along with a programme of his complete works to date.
The extraordinary presentation of Monument Film in the grand NFT1 cinema forms the centrepiece of an Experimenta Weekend full of outstanding visions. Thom Andersen, Nathaniel Dorsky and Laida Lertxundi return with new films, whilst Mati Diop introduces her award winning work in London for the first time, and Beatrice Gibson premieres The Tiger's Mind.
The weekend begins appropriately at zero point, with Isidore Isou's On Venom and Eternity (the unabridged 1951 version, screening in a brand new print): a film that radically rejected convention in its attempt to liberate cinema from the industry.
The Experimenta Weekend is curated by Mark Webber, with assistance from Shama Khanna.
SEE THE EXPERIMENTA WEEKEND PROGRAMME HERE