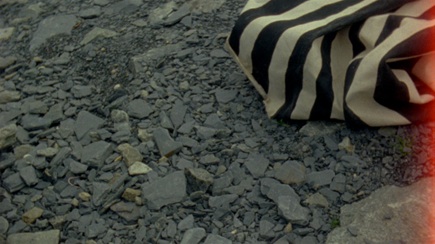 Sunday 21 October 2012, at 9pm, NFT3
A Lax Riddle Unit
Laida Lertxundi | Spain-USA 2011 | 6 min
'In a Los Angeles interior, moving walls for loss. Practicing a song to a loved one. A film of the feminine structuring body.' (LL)
Agatha
Beatrice Gibson | UK 2012 | 14 min
Strangers in a strange land. As the narrator recounts a dream by composer Cornelius Cardew, the viewer is transported from the hills of Snowdonia to a mental landscape where sci-fi commingles with sexual fantasy.
Well Then There Now
Lewis Klahr | USA 2011 | 11 min
Loosely interpreting a scenario by John Zorn, Klahr uses subconscious logic to weave strands of suspense from collaged images and fragments of voiceover.
The Plant
Mary Helena Clark | USA 2012 | 8 min
'A film filled with clues and stray transmissions built on the bad geometry of point-of-view shots.' (MHC)
Arbor
Janie Geiser | USA 2012 | 7 min
The layered imagery of Geiser's uncanny animations suggest surreal worlds and spectral presences. 'I was wide awake, in a dream.'
The Tiger's Mind
Beatrice Gibson | UK 2012 | 20 min
Again referencing Cardew, Gibson's new project The Tiger's Mind takes his 1967 text score and applies it to the process of making a collaborative film, for which each contributor assumes the role of a character. The result is an abstract psychodrama and crime thriller set against the backdrop of a modernist house. Commissioned by The Showroom and CAC Bretigny.
Mark Webber
Laida Lertxundi will present a screening of her work at the ICA Artists' Film Club on Tuesday 23 October 2012.