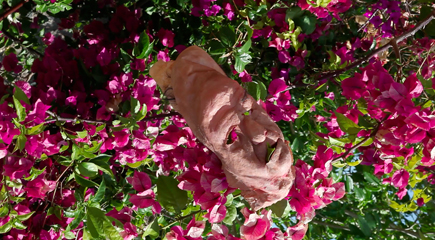 Saturday 20 October 2012, at 9pm, NFT3
Great Blood Sacrifice
Steve Reinke | USA 2010 | 4 min
'Whatever is going on on top, there's a precise machine at work below, and this machine is digging little grooves, and these grooves slowly join together and become the conduits by which all meaning is drained from the world.' (SR)
Manque de preuves (Lack of Evidence)
Hayoun Kwon | South Korea-France 2011 | 10 min
To cleanse his village of demons, the chief of a Nigerian tribe plans to sacrifice his twin sons. One escapes and flees to Europe, where his application for asylum is dismissed through lack of material proof. Using his testimony as the basis, Kwon proposes an animated depiction of his account.
Birds
Gabriel Abrantes | Portugal-Haiti 2012 | 17 min
Pagan folk myth is juxtaposed with ancient Greek comedy as three Haitian girls witness disparate forms of storytelling. An old man tells the tale of his wife's transformation into a goat. In a local village, an elaborately costumed theatre group performs Aristophanes' Birds in the original Attic language.
Ponce de León
Ben Russell & Jim Drain | USA 2012 | 26 min
'Our Ponce de León is an immortal for whom time poses the greatest dilemma – it is a constant, a given, and his personal battle lies in trying to either arrest time entirely or to make the hands on his clock move ever faster. For Ponce de León, time is a problem of body, and only by escaping his container can he escape time itself.' (BR)
River Rites
Ben Russell | USA-Suriname 2011 | 12 min
'Trance dance and water implosion.' A constantly moving camera passes through a complex choreography of bodies engaged in rituals of work and play along the Upper Suriname River.
Mark Webber