Pip Chodorov talks us through a bunch of stills from his documentary FREE RADICALS. Go to the bottom of the page for the film's trailer & screening schedule.
1. We decided to use a typewriter font which brings to mind handmade work. In order to preserve a double-meaning from the French title, we called the film "a history of experimental film" but then "history" becomes "story."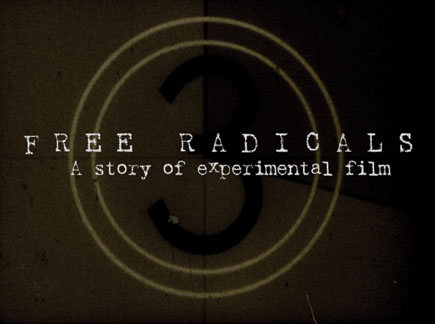 2. This is my mom and myself in 1966. What I say in the voice-over is true: the chemical alteration visible in the image was created by our dog who pissed on a box of home movies about ten years later.
3. Hans Richter, the Dada artist and one of the first makers of abstract film. He was a neighbor, and my dad interviewed him for CBS television in 1973. I was there – I was 8 years old. Richter wanted to draw my portrait but I wriggled away. He did give us one of the hats from Ghosts Before Breakfast and I used it in some early Super-8 films.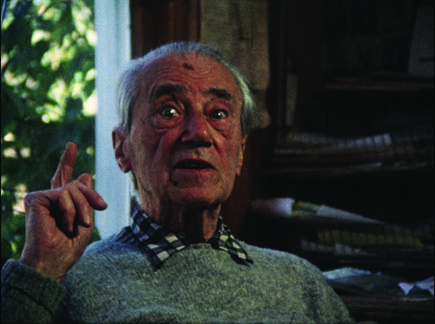 4. Peter Kubelka explains how he made Adebar to me and Jonas Mekas. This was shot at the FIAC art fair in 2007, on the film's 50th anniversary.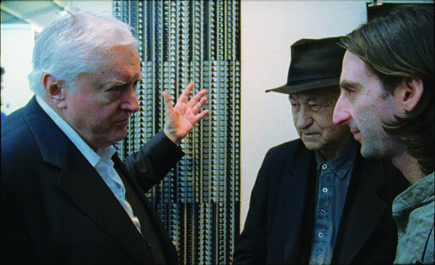 5. Kubelka claps for the sync sound 16mm camera. He and Jonas were very excited to be filmed on film, even though Jonas captures everything on his DV-Cam now. In the background is Richter's 1976 silkscreen of his Rythmus 21 scroll painting.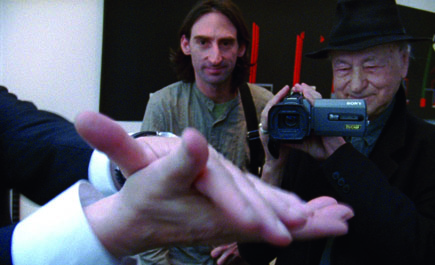 6. Maurice Lemaître, the French letterist artist, telling us that experimental filmmakers are like the chefs of highly refined dishes.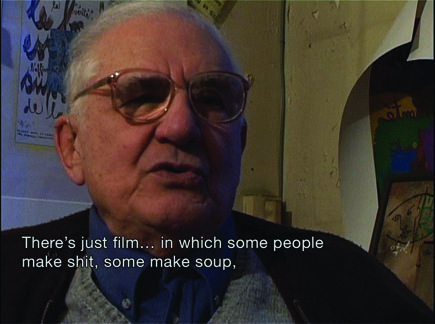 7. Stan Brakhage shows us his 2003 work in progress The Chinese Series. He was very sick with cancer and told us it should be considered finished whenever he stopped work on it. He died two months later.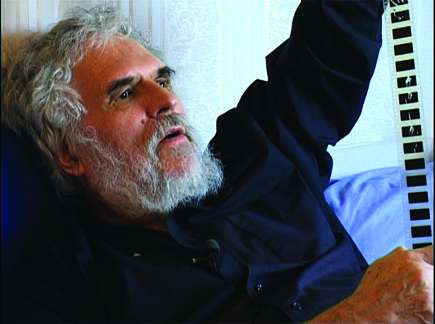 8. Nam June Paik, from a film made in 1984 in support of the Anthology Film Archives. When Paik first came to America, Jonas Mekas was his financial sponsor although he didn't have a penny in the bank. Luckily the authorities never checked his bank account, so Paik was able to sneak in.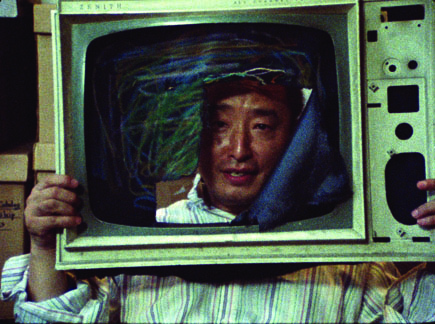 9. Jonas Mekas munches corn on the cob at the Greenpoint subway stop in New York. Jonas moved to Greenpoint after living for 30 years in a Soho loft. His videos Farewell to Soho and Letter to Greenpoint document the move.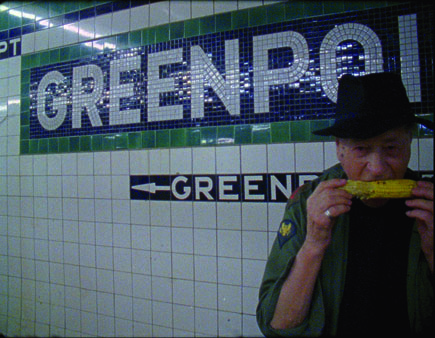 10. Here I am developing film at L'Abominable, the Paris do-it-yourself non-profit artist-run film lab. When you hand-develop 16mm color negative, you have to rub off an anti-halo "rem jet" backing or else the film will be permanently stained. It isn't easy.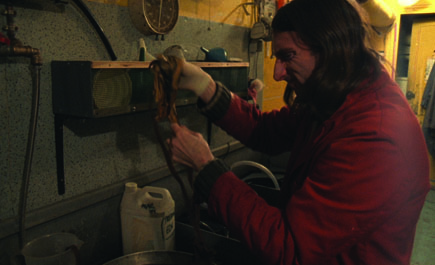 … and here is the trailer for FREE RADICALS …
Link to more info on FREE RADICALS here
FREE RADICALS screenings :-
Friday 21 October 2011, at 6:30pm, BFI Southbank NFT3
Monday 24 October 2011, at 4:15pm, BFI Southbank NFT3
Monday 24 October 2011, at 7pm, BFI Southbank STUDIO