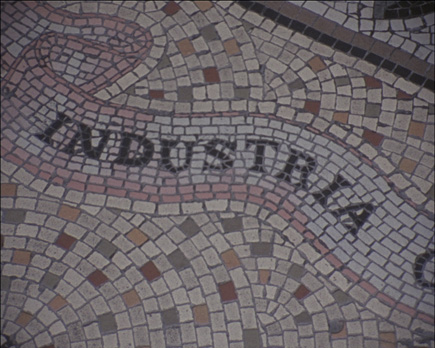 "I am seeking to rescue the poor stockinger, the Luddite cropper, the 'obsolete' hand-loom weaver, the 'Utopian' artisan, and even the deluded follower of Joanna Southcott, from the enormous condescension of posterity. Their crafts and traditions may have been dying. Their hostility to the new industrialism may have been backward-looking. Their communitarian ideals may have been fantasies. Their insurrectionary conspiracies may have been foolhardy. But they lived through these times of acute social disturbance, and we did not. Their aspirations were valid in terms of their own experience; and, if they were casualties of history, they remain, condemned in their own lives, as casualties."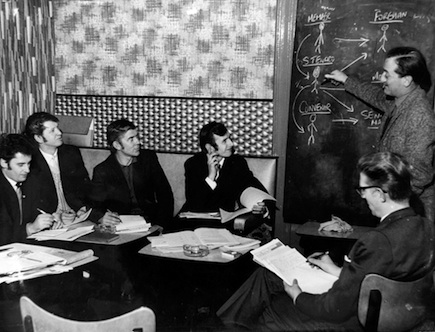 The words of E. P. Thompson from his 1963 book "The Making of the English Working Class" resonate through Luke Fowler's feature length film documenting the post-war educational work of Thompson and his peers for the Workers Education Association (WEA) in the north of England. Thompson was aged just 24 when he was commissioned to teach literature and social history to adults in the industrial towns of the West Riding. Alongside other cultural materialsts such as Raymond Williams and Richard Hoggart in the UK, and Augusto Boal and Paulo Freire further afield in Brasil, Fowler explores a historic moment in the history of formal education where the teacher was open to learning from the experiences of students in contrast to conventional teaching which prioritises objective understanding.
The Poor Stockinger, the Luddite Cropper and the Deluded Followers of Joanna Southcott contains found footage and newly photographed material. Key documents such as "Against University Standards" (1950) are narrated by the characterful voice of artist Cerith Wyn Evans.
As in his early films All Divided Selves (2011, about the work of radical psychiatrist R.D. Laing), and Pilgrimage from Scattered Points (2006, following the processes of Cornelius Cardew's Scratch Orchestra in the 1970s), Fowler suggests that seemingly utopian or marginal practices still have relevance today. By uncovering rarely seen footage and documents, Fowler reclaims the work of these determined practitioners from the criticism and 'the enormous condescension of posterity' they received in their day.
Shama Khanna

Link to more info on THE POOR STOCKINGER here
THE POOR STOCKINGER screenings :-
Wednesday 10 October 2012, at 6pm, ICA Cinema 1
Sunday 21 October 2012, at 4pm, BFI Southbank NFT3