Shama Khanna talks to Karen Mirza and Brad Butler about their new work Deep State.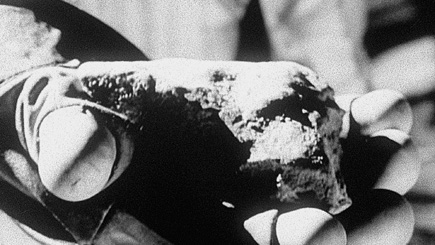 Could you explain how your collaboration with fantasy fiction author and activist China Miéville came about?
KM: Deep State is the first time we've worked with a writer; until now we had never brought anyone into our collaboration so closely. For me the relationship to non-fiction, fiction and semi-fiction was key. The script Brad and I wrote for our last film The Exception and the Rule utilises strong textual narrative devices, for example processes of appropriation, collage and translation of existing citations but not writing per se and we recognized that this was an area we had become interested in.
BB: With China, one of the things we asked him to do was to write from the position of images from an archive we had created over the last two years of participation in actions of civil disobedience and struggle. Personally I was very interested in how China might write through contemporary political events, because what I really like about his novels is that his complex political engagement is so intelligently woven through powerful aspects of the imagination and language.
KM: I read The City in the City in Cairo 2011 and I was captured by this wonderful concept of the condition of unseeing in the midst of seeing at the heart of the book. Between his Marxist position on International Law, and from the genre of weird fiction he works within, it was a compelling combination. We sat down together and found 'Deep State' was a common interest so from there we developed a treatment, which China developed into a script, and which Brad and I then turned into a screenplay.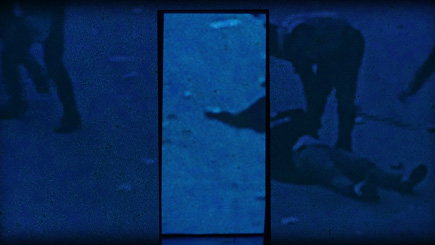 The role of language – both spoken, and language enacted through body movements – seems to be at stake. Could you talk about the gestures of the 'astronaut' character, who also appeared in your recent work Hold Your Ground?
BB: Quite early on, China, Karen and myself talked about the relationship of the body to protest, and about languages of protest. In Egypt, particularly at that time, we were also struck by the way people started to organise themselves. We saw footage shot by our friends of female activists who would call people down from their balconies to join the gathering movement. There was something very particular about how they moved, it felt like something new …
KM: The female activists drew their slogans from other revolutionary moments in Egypt's history merged with the verbal language of the present. You can see the movements of the women in early scenes of Deep State.
KM: We've also been practicing Augusto Baol's concept of the Theatre of the Oppressed – articulating oppression, making images with one's body, with collective bodies, and working from the body to speech.
BB: It became a major thread through Deep State. We often talk about this character that's both struggling to speak as she's attempting to teach. It's very important in Deep State that she does actually fight for the other character; it isn't just an abstract theoretical moment. For Hold Your Ground we were interested in the context of Canary Wharf (where it was shown) because it's a pressure point – there's an indefinite political injunction on any form of public assembly or protest. The strategy to have this character calling to the workers in the city to strike was a type of insurrection. She speaks four phonetic phrases reconstructed from Arabic meaning: 'hold your ground', 'Egyptians', 'homeland' (of the earth, of the Nile) and 'strike'.
How do you think making a film contributes to the greater cause?
BB: I'm personally interested in introducing this term 'Deep State' into common language in the UK. We first heard the term 'Derin Devlet' in Turkey, and until you name something, even if it's deep in your body you might not be able to see it, and work with it or against it.
KM: I think there's a value in not just naming, knowing what to resist, but to also reach a point at which knowledge can actually become action.
BB: Karen and I started to say to each other that it's not enough for us to make films, so for years we have been working across different platforms at once. We run a non-profit space (no.w.here) which we hold open for other people to come in and make work in the film lab, or to think through their practice without commercial pressures. Since 2007 we have also been working through The Museum of Non-Participation from which we think about our own political position and conditions of power. We don't see ourselves as insiders/ outsiders, rather we believe we're implicated in many of the structures we aim at.
You use footage from TV and film archives in Turkey and London, and the graphic images of police violence during recent street protests contrast with the fictional elements. In light of increasing clampdowns on protest and activism in general, why was it important to set the film in the future?
KM: Brad and I have a strong practice of working with non-fiction, a lot of our previous works have been about asking questions rather than telling stories. This is the first work where we've actually told a story. Quite early on with China we agreed on the character of a time traveling 'riotanaut'. The story is being broadcast to us from 2083, a date chosen for its imaginable proximity to the now. Wanting to tell a contemporary tale about continuous struggles, an optimism about what we can be experienced from these different insurrectory moments in time. The film doesn't have a directive ending, it is still open. We chose not to make a documentary, or to archive the occupy movement or the Egyptian revolution. We attempted to create an image that 'acts'.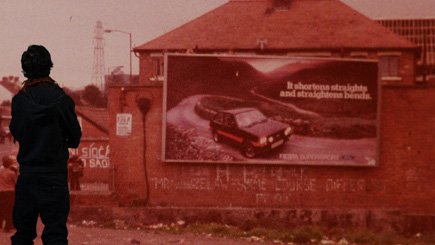 Deep State by Karen Mirza and Brad Butler will be screened in the mixed programme OCCUPY THE CINEMA, alongside Ken Jacobs' amazing Seeking the Monkey King and Austerity Measures by Ben Russell and Guillame Cailleau.
Link to more info on OCCUPY THE CINEMA here
OCCUPY THE CINEMA screenings :-
Thursday 11 October 2012, at 8pm, ICA