Gabriel Abrantes early film Olympia I & II will follow the screening of two ambitious new works – Liberdade and Palacios de Pena – in his solo programme on 22 & 25 October. The artist will be present to introduce and take questions on these works, which were made in collaboration with Katie Widlowski, Benjamin Crotty and Daniel Schmidt.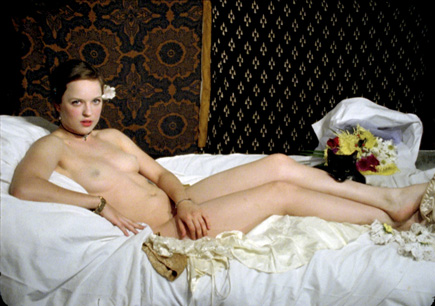 To accompany two new films by Gabriel Abrantes, Olympia I & II (2008) is revisited to delve deeper into the way this artists treats his characters' attitudes towards sex, sexuality and power. Abrantes and Katie Widlowski explicitly reference Manet's painting Olympia (1863) through the title and the visual composition of the frame. Their use of 16mm film heightens the painterly qualities of the work: the saturated colours, the grainy make-up, the smoothness of the porcelain skin of Olympia and the velvet cushions and feathery flowers caressing her body.
Despite the art historical context, the work does not get lost in aesthetics. The twisted and verbally aggressive interaction of Olympia I contrasts with the sickly sweet homoerotic conversation that leads to intercourse between transvestite Olympia and his maid in Olympia II. Both films evoke the characters' sadness and bitterness towards life and their psychological cracks hit the viewer emotionally.
Marina Ribera
Palacios de Pena (Palaces of Pity) received its world premiere at the Venice Film Festival 2011. Here's the trailer :-
Link to more info on GABRIEL ABRANTES here
GABRIEL ABRANTES screenings :-
Saturday 22 October 2011, at 9pm, BFI Southbank NFT3
Tuesday 25 October 2011, at 1:15pm, BFI Southbank NFT2