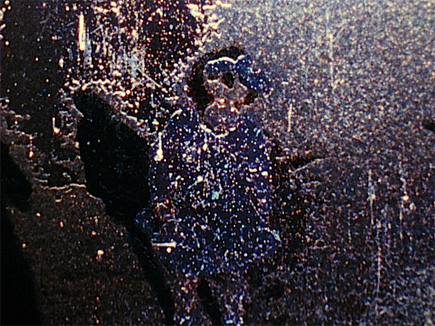 Feel Flows: The Films of Phil Solomon
London Tate Modern, 24 & 27 October 2011

On his first visit to the UK, Phil Solomon presents two programmes of his alchemical film work. By treating the celluloid surface with a variety of substances and techniques, Solomon transforms images to construct an emotionally charged and deeply affecting cinema. Often elegiac in tone, his symphonic approach makes the personal profound.
This survey of Solomon's 16mm films also features Rehearsals for Retirement, a machinima work from the digital series In Memoriam (for Mark LaPore), made with imagery drawn from the Grant Theft Auto videogames. Programme two includes Seasons…, a collaboration with Solomon's colleague, friend and mentor Stan Brakhage.
"Although part of a long avant-garde tradition, Solomon makes films that look like no others I've seen. The conceit of the filmmaker as auteur has rarely been more appropriate or defensible – the liberating effect of Solomon's work suggests a rather different realm: Film Meets Vision, Rejoice!" (Manohla Dargis, New York Times)
Feel Flows: The Films of Phil Solomon: Programme One
Feel Flows: The Films of Phil Solomon: Programme Two
Curated by Mark Webber and presented in association with The 55th BFI London Film Festival. Solomon will premiere American Falls at BFI Southbank on Sunday 23 October.