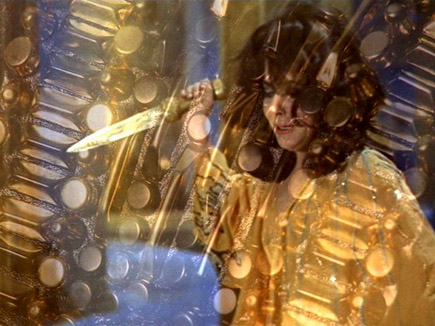 Saturday 22 October 2011, at 2pm, NFT3
Trypps #7 (Badlands)
Ben Russell | USA 2010 | 10 min
The mirror crack'd: As a young woman, high on LSD, looks toward the camera, the doors of perception swing open for both viewer and subject.
While You Were Sleeping
Mary Helena Clark | USA 2010 | 9 min
'This is your life. It rides like a dream.' (MHC)
Sans Titre
Neil Beloufa | France 2010 | 15 min
In a reconstruction of a villa occupied by terrorists during the Algerian War, onlookers speculate on the activities that took place.
The Pips
Emily Wardill | UK 2011 | 4 min
A gymnast performs, and everything begins to fall away …
… These Blazeing Starrs!
Deborah Stratman | USA 2011 | 14 min
Watch the skies! Throughout history, comets have heralded events of grave significance and change; today it is thought that they can reveal facts about the formation of the universe.
These Hammers Don't Hurt Us
Michael Robinson | USA 2010 | 13 min
'Tired of underworld and overworld alike, Isis escorts her favourite son on their final curtain call down the Nile, leaving a neon wake of shattered tombs and sparkling sarcophagi.' (MR)
Mark Webber
Also screening:
Thursday 27 October 2011, 3:45pm, NFT3